There have only been 5 league meetings between FGR and Crewe (between Nov 2017 and Nov 2019).  Honours have been shared – 2 wins apiece and 1 draw.
Crewe have spent most of their time in the 3rd and 4th tiers of English football in the last 100 years.  Although there have been a few occasions when they have flirted with danger, they have never yet dropped out of the EFL.  Their recent golden years were under Dario Gradi.  Gradi was in charge of Crewe for all but one season between 1983 and 2011, becoming the longest serving manager in English League football.  During his time Crewe enjoyed 9 seasons in the 2nd tier between 1997 and 2006.  However, Gradi's legacy was finally destroyed in August 2023 (see below) after a report into one of football's darker periods.
Crewe's first 6 games have been high scoring with the Alex scoring at least twice in all but one of their games.  They have drawn at home with Mansfield & Walsall, and away at Swindon.  They beat Doncaster at home 4-2 and MK Dons at home 3-1 in their last outing.  Their only loss was a 1-0 reverse at Bradford.  This has left them 9th in the table, 2 points ahead of Rovers.
Crewe have scored 13 in their 6 games but conceded 10.  They have had to come from behind to get points in 4 of their games.  It may prove to be a reasonably open encounter?
Making an early impact has been defender Mickey Demitriou (number 5) who joined as a free agent in the summer after failing to agree terms with Newport, where he was club captain and where he had been for 7 years.  The 33 year-old is currently top scorer with 3 goals and one assist to his name.  However, Crewe have already had 8 different goal-scorers this season, with Chris Long (number 7), Elliot Nevitt (number 20) and Rio Adebisi (number 3) each scoring twice.
Former Newport captain, Mickey Demitriou, has made an impact since coming to Crewe in the summer.
Crewe's manager is Lee Bell.  A local Cheshire lad, Bell joined Crewe's Academy system in 1997.  In his playing career, which was mostly with Crewe, he never tended to move that far from home, with spells at Burton, Macclesfield, Mansfield, & Shrewsbury.
In 2015 Bell became under-18's coach at Crewe, before becoming assistant first team manager, interim first team manager, then, in December 2022, first team manager.
Manager Lee Bell has been associated with Crewe for over 20 years.
It was announced in August that legendary Crewe manager, Dario Gradi, is to be stripped of his MBE for services to football.
The former Crewe manager, now 82, was, in effect, banned for life from coaching by the Football Association after the revelations of the 2021 Sheldon Review into child sexual abuse in football.  Gradi was found to have failed to protect children from the abuser Barry Bennell, though the Review found there was no evidence of his having acted inappropriately with children himself.  However, in an assessment conducted by the FA, a further judgment was made that Gradi "could potentially cause or pose a risk of harm to children".
Gradi was criticised, among other things, for failing to act in relation to allegations about Barry Bennell, described as the "devil incarnate" by a judge who imprisoned him in 2018 for 30 years for abuse against boys aged eight to 14.  In the report, Sheldon stated that Gradi "did not consider a person putting their hands down another's trousers to be an assault", something he changed his mind to accept when Sheldon insisted that it was assault.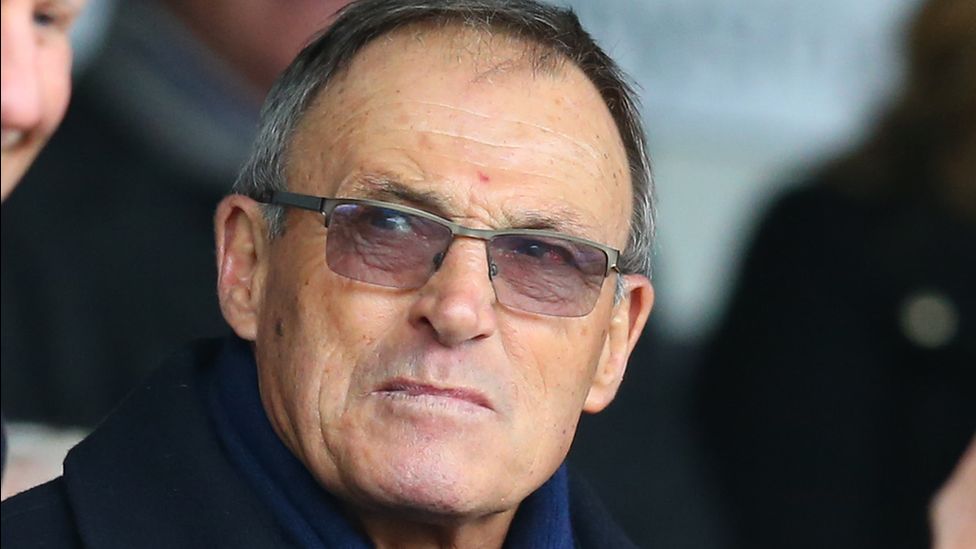 Ex Crewe manager Dario Gradi – now disgraced.
Like Swindon, Crewe is a railway town.  It grew from a village of about 70 people in the late 1830's when the Grand Junction Railway Co chose Crewe as a large junction and a major railway engineering facility for manufacturing and overhauling locomotives.  It sits 28 miles south of Manchester.  It is still a major interchange on the West Coast main line and has 12 platforms in use at its station.  However, railways have declined in importance in the town and the biggest employer in the town is now the Bentley car factory to the west of the town (a factory that used to make Rolls Royces).
Crewe Alexandra Football Club was formed in 1877 as an offshoot of Crewe Alexandra Cricket Club (established in September 1866 by workers at Crewe locomotive works).  The 'Alexandra' was named after Princess Alexandra, who became Edward VII's wife.  In spite of the railway connection, the chief engineer of the town's London and North Western Railway works, who supported the exclusion of professional sportsmen, led LNWR to say in 1891 that the company would 'refuse to find employment in the Crewe Works for any professional football player'.  So, the club's existence owes less to the railways than might be imagined!
Check out the feelings of Crewe fans on their forum https://ctfcfansforum.freeforums.net/board/1/talk-football
Crewe station.  The arrival of HS2 could make a big difference to the town.
Gresty the Lion, Crewe's mascot.