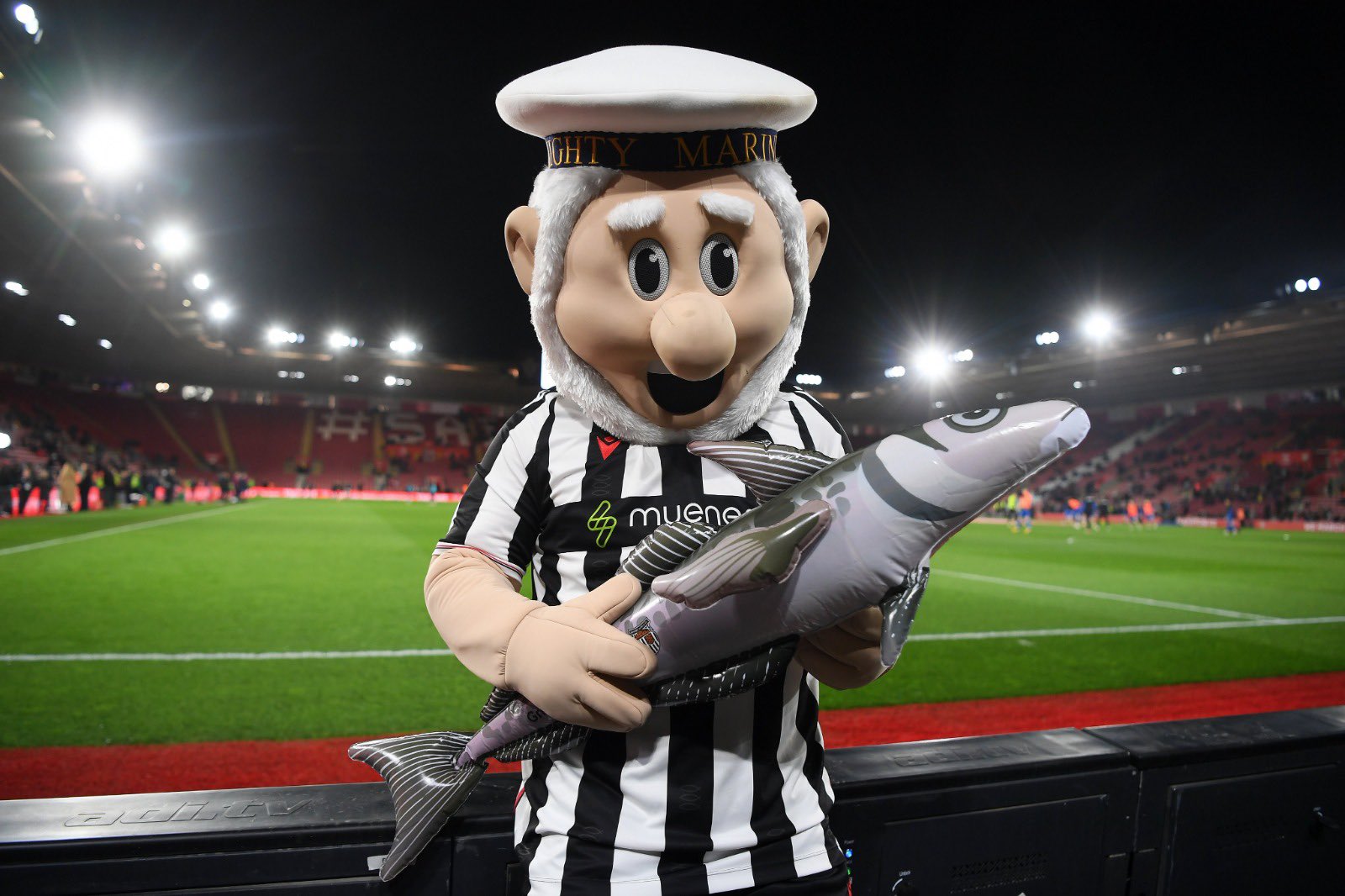 Grimsby mascot, the Mighty Mariner.
The club are nicknamed The Mariners.  Grimsby's fans are often referred to as 'codheads'.  The Grimsby fanzine is called 'Cod Almighty'.  The club's logo is pretty self-explanatory!
Grimsby fans have been waving inflatable fish (called 'Harry Haddocks') for more than 30 years.  In February this year Southampton decided to ban Harry Haddocks when Grimsby arrived to play an FA Cup tie at St Mary's.  In the face of strong protest, Southampton reversed the ban before the game.  A bad season for Southampton got much worse when Grimsby knocked out the Premier League team, winning 2-1 to advance to the quarter-finals.
Grimsby's season started ok.  In their first 7 games of the season they were only beaten once – 3-2 away at Notts County.  4 draws and 2 wins in their other games represented a reasonably solid opening.  But, their next 9 games produced 7 defeats, 1 draw and 1 win.  A run of 4 consecutive defeats,ending in a 1-0 loss to Doncaster on the 28th October, were enough to see the Grimsby boss, Paul Hurst, sacked.
Grimsby faced an in-form Morecambe at home on the 11th November in their first game without a manager.  Despite being 1-0 down at half time, they scored 3 goals in 11 minutes at the start of the second half and hung on to win 3-2.
This win lifted them to 22nd place in the table – 4 points and 2 places above Rovers (though Rovers have a game in hand).
Grimsby fare much better at home than away.  They have 3 away draws against Walsall, Bradford & Tranmere but no wins on the road so far.  Only Sutton and Tranmere have worse away records than Grimsby.  That said, nobody has a poorer home record in the league than Rovers (who have just 6 points from 9 games).  This has the makings of a real relegation dogfight!
Like Rovers, Grimsby face an FA Cup replay on Tuesday 14th Nov, after drawing 1-1 away at Slough Town.  Grimsby scored a late equaliser to force the replay.  Sound familiar?
Winger Abo Eisa is having a good season.  Joint top scorer with 5 goals, Eisa hasn't netted since September.  Danny Rose also has 5 goals for the season.  Rose moved from Stevenage in the summer for an undisclosed 5-figure sum.
Attacking midfielder, Gavan Holohan, is influential for the Mariners.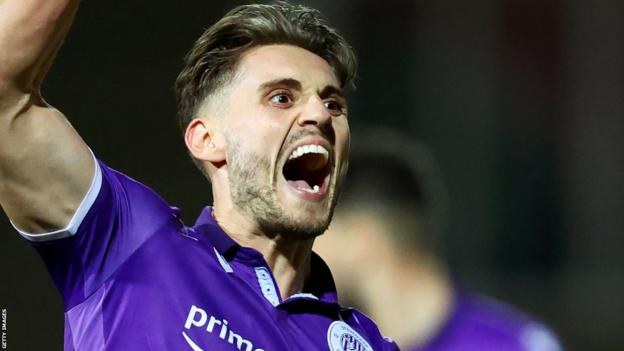 Striker Danny Rose has 5 goals so far.
Sudanese winger Abo Eisa also has 5 goals.
The club have played at Blundell Park since 1898. Blundell Park holds the distinction of being the lowest ground above sea level in the English Football League (at about 0.6 metres).  The New Lawn lays claim to be the highest ground in the EFL (at over 160 metres above sea level).  We can only hope that altitude affects the Grimsby players!
Grimsby actually play in Cleethorpes (next to the beach at this seaside resort).  It's only about a mile from Cleethorpes to Grimsby but locals claim that they are the only British club to play all of its games away from home.
Grimsby's traditional rivals were their Humberside neighbours Hull City, but the 2 clubs haven't played each other in the league since 1987.  Fellow Lincolnshire clubs Scunthorpe United and Lincoln City have been more frequent derby opponents in recent years.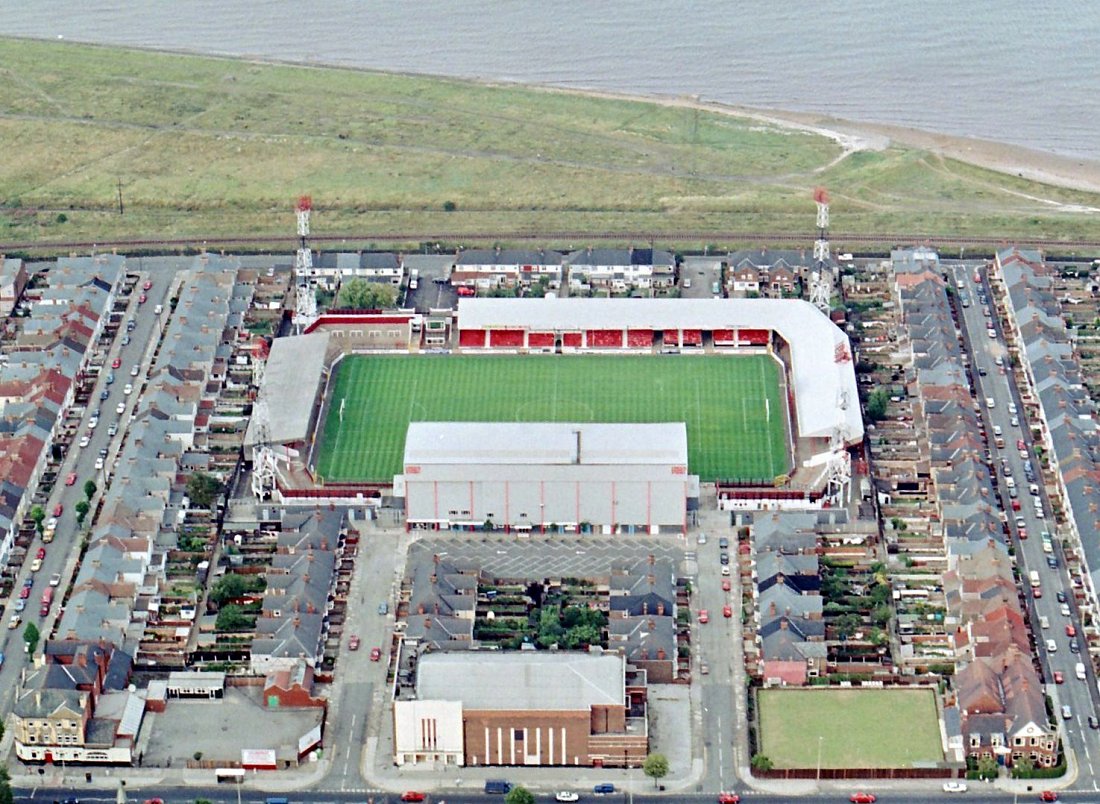 Grimsby are one of only six clubs who have played in all top 5 tiers of English football (the others are Notts County, Leyton Orient, Carlisle Utd, Oxford Utd & Luton Town).  FGR fans will remember Grimsby's return to the football league in 2016 when they were promoted to League 2 after a 3-1 win against Rovers in the Wembley play-off final.
Grimsby enjoyed 5 years back in the EFL after winning the 2016 National League play-off final against Rovers.  They had spent 6 years in the National League, the first time in their history they had dropped to the 5th tier.  In 2021 they were again relegated to the National League but bounced straight back the following season, defeating Wrexham, Notts County & Solihull Moors in the play-offs after a 6th place league finish.
Grimsby is in North Linconlshire, on the south side of the Humber estuary (looking across at Hull which is on the north side of the estuary).  It has pretty much merged with Cleethorpes as a conurbation these days.
At its peak, in the 1950's, Grimsby laid claim to being the largest fishing port in the world.  In spite of a decline since those heady days, the town is still one of the largest centres of fish processing in Europe, with the Findus Group (incorporating Youngs Seafood and Findus) headquartered there.