MK Dons play Rovers for the second time in a month.  The Boxing Day fixture at Stadium MK was a 1-0 victory for MK – a terrific 58th minute goal from defender Dan Harvie proving the difference between the sides in an otherwise even contest.
Rovers will be hoping for a result against a relegation rival.
It hasn't been a great season for MK Dons so far.  The Don's home record has been especially poor – 2 wins, 3 draws & 8 defeats from 13 home games.  They are better away from home (13 points from 12 games on the road).  They have comfortably the worst home record in the league.  Their poor home form didn't prevent them winning 1-0 against Rovers on Boxing Day, in the reverse fixture.
The Dons are in 22nd place in the league, 1 place and 1 point above Rovers and with a game in hand.  This is a big change from last season when the Dons made the play-offs, narrowly missing out on automatic promotion to the Championship.
But there were some signs of a revival at Stadium MK.  The club sacked their manager, Liam Manning, on the 11th of December after a 2-1 home loss to Fleetwood.  Last season Manning guided the club to 3rd place in the league and a play-off spot, but this season things had not gone so well.  Some say the recruitment policy  in the summer was odd, with too many punts on unproven players (14 new recruits came in).  The club also lost players who had been key to their success last season, for example Scott Twine who moved to Burnley.  Captain Dean Lewington was in interim charge as MK searched for a new boss.
In his first game in charge, Lewington masterminded an impressive 2-0 win away at Portsmouth.  On 23rd December MK appointed former Leeds 1st team coach Mark Jackson as their new manager.  Jackson immediately gained a first home win in 4 months as they beat Rovers 1-0 on Boxing Day.  Since then they have had successive losses away at Peterborough and Plymouth and, most recently, a 0-0 home draw against Lincoln.
MK's impressive home stadium can house over 30,000 spectators.
Former Sunderland striker, Will Grigg joined MK on a free transfer at the start of the season and has repaid them with 5 goals so far (their top scorer).  Grigg had been a great marksman for Wigan and this tempted Sunderland to pay over £3m for him in 2019.  But his career at Sunderland stalled and he signed for MK (having previously been at the club for a loan spell in 2021).  Grigg was an unused substitute in MK's last game away to Portsmouth.
Bradley Johnson in the MK midfield was with Norwich for 5 seasons between 2011 and 2016 (4 of these in the Premier League).  After moves to Derby then Blackburn, he joined MK this summer.  He is their joint top scorer with 5 goals this season.
Rovers fans will remember Sudanese forward Mo Eisa (number 10).  Eisa played for Cheltenham in 2017/18 before moves to Bristol City then Peterborough.  This is his 2nd season at MK, though he has been an intermittent starter for the Dons this campaign.
Mark Jackson, MK's new manager, was appointed just before Christmas.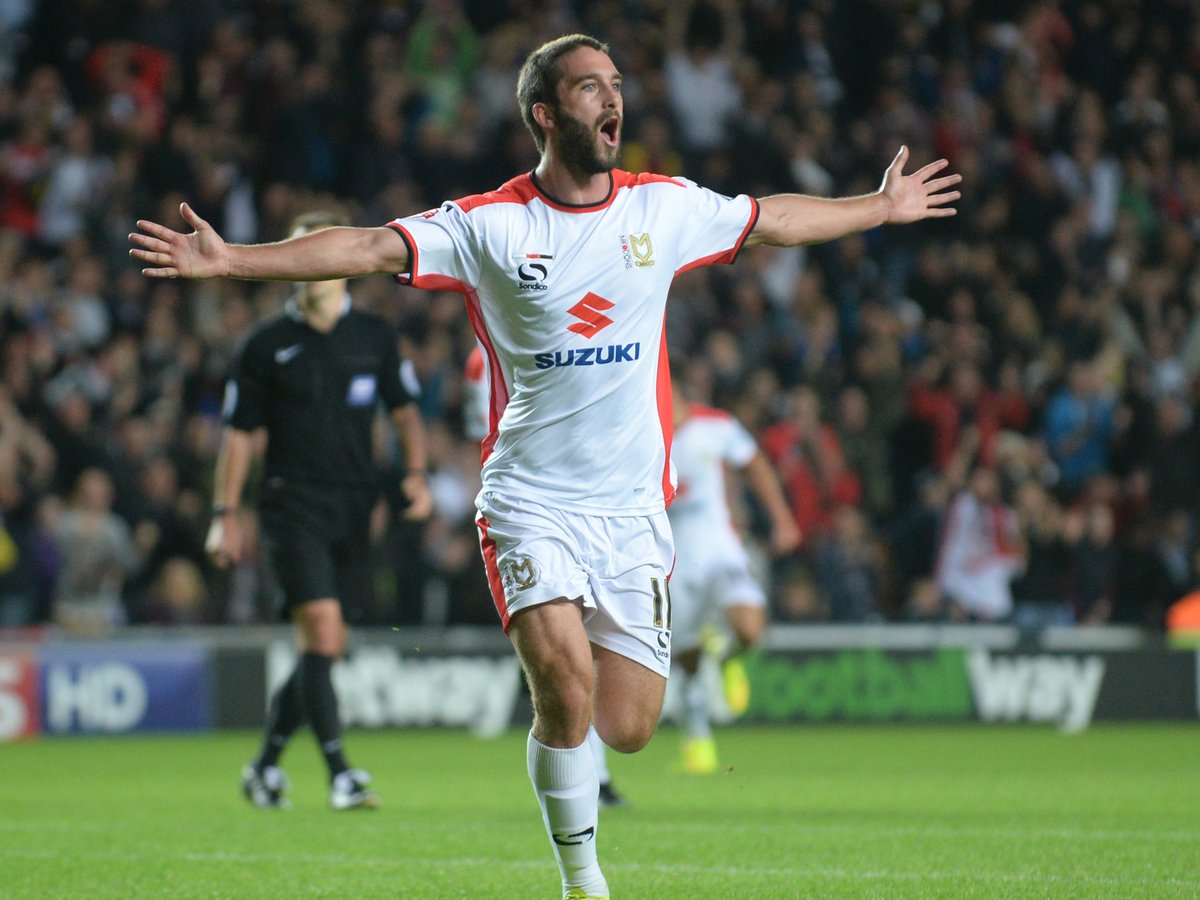 Will Grigg, number 9, MK's main frontman.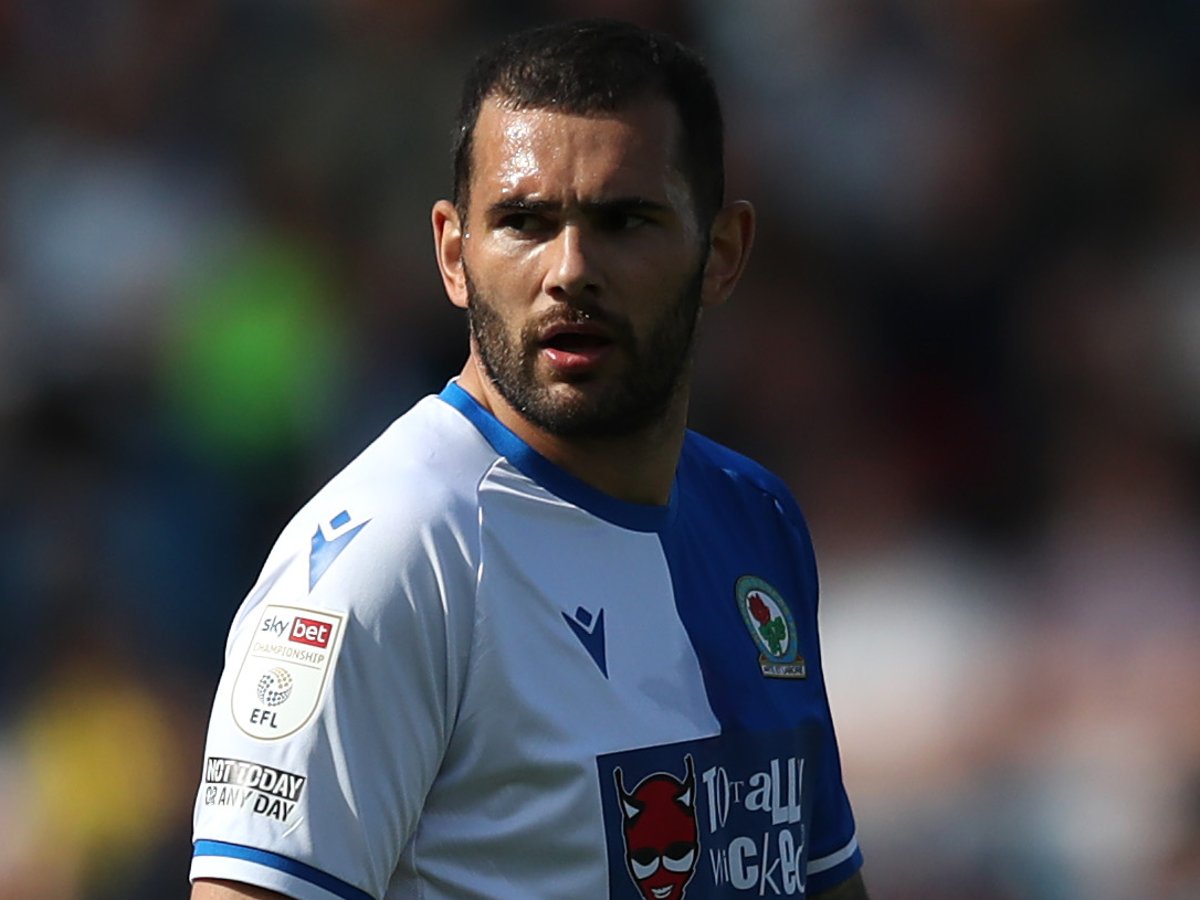 Midfielder Bradley Johnson, number 14, brings a lot of experience to MK.
MK Dons were formed in 2004 in controversial circumstances.  Wimbledon FC relocated to Milton Keynes, having had to play their league games at Selhurst Park for a while and following going into administration in 2003.  Wimbledon fans mostly refused to follow the club to Milton Keynes and the acrimony has increased over the years with many urging the EFL to do something to prevent the 'franchising' of clubs out of their local area.
MK and the resurrected AFC Wimbledon were both in League 1 last season before Wimbledon were relegated to League 2.  The London club long refused to recognise the 'Dons' part of MK Dons (only ever publishing their name as 'Milton Keynes') until the EFL stepped in to insist they used the full name.  Bitter memories run deep!
MK Don's greatest Academy product, Dele Alli, was sold to Spurs for an initial £5m in 2015.  Alli is currently on loan to Besiktas from parent club Everton.
The only other professional football club in Buckinghamshire is Wycombe Wanderers.
Milton Keynes was formed as a 'New Town' in the late 1960's and has now grown to have a population of 250,000 people.  The town, which became a city in 2022, is built on a grid system of streets surrounded by ring roads and (many!) roundabouts.
The stadium is very close to the village of Bletchley and less than a mile from the WW2 codebreaking location of Bletchley Park, now home to a wartime museum.
Bletchley Park, where the enigma code was broken in World War II.
Donny & Mooie, the MK Don's mascots.  Stadium MK's South Stand is also known as the Cowshed.  Milton Keynes is also known for an artwork of 6 concrete cows installed on one of its roundabouts in 1978.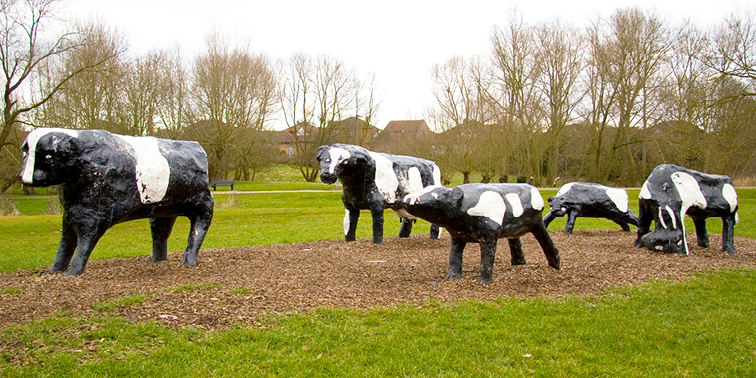 Concrete cows in Milton Keynes!