The journey to Fratton Park is some 2 hours by road (approximately 100 miles).
By rail – Unusually, rail travel is possible.  It's a journey that can be just over 3 hours from Stroud to Fratton with a couple of changes on the way.  Fratton station is a 10 minute walk from the ground.  There are a good number of trains that will get you back to Stroud after the game.
By car – Fratton Park is located in Frogmore Road, Portsmouth PO4 8RA, about 2 miles east of the city centre.  There is street parking if you are there early enough.  Secure car parking is available at St. Mary's Hospital in Milton Road.  Some people have recommended parking in nearby areas such as Cosham and Hilsea and taking a short train journey to Fratton station.  This is also reported as a good way of making a sharp exit.
Fratton Park is a traditional ground and a ground with loads of character. Both side stands are two-tiered and originally had terracing at the front.  The whole ground is now seated, with a capacity of 21,000.  The South Stand dates back to 1925.
Away fans are usually in part of the Milton Road end, which is shared with home fans (who are apparently not intimidatory, even though they are close to the opposition support).  The end was roofed about 15 years ago, though there are supporting pillars that can impede your view and the legroom is tight.  There is capacity for 1400 away supporters.
Ticket prices are £24 adult, £18 Over 65's, £16 u-23's & £7 u-18's.
New manager John Mousinho.
Danny Cowley was sacked as manager in January.
Portsmouth are one of the big hitters in League 1.  Averaging home gates of over 18,000 this season, Portsmouth fans were clearly hopeful of a good campaign.
The early season signs were very good.  6 wins and 2 draws in their first 8 games put Pompey top of the league.  This early season form didn't last.  The next 15 games saw them win just one game.  This one win was the 1-0 victory against FGR in Nailsworth in October, where a 17th minute goal from centre-back Sean Ragget proved to be the difference.
The fall-off in results saw manager Danny Cowley lose his job in early January, replaced by the Oxford United coach John Mousinho.  Since then Pompey have rallied somewhat, with more wins than losses under Mousinho.  The losses under Mousinho have come against the top sides (Plymouth, Sheffield Wednesday, Peterborough & Barnsley).
Portsmouth are 9th in the league, but are 6 points shy of the play-off places.  They certainly won't have given up hope of doing better than another mid-table finish.  Last time out they were held to a 2-2 draw at home to Port Vale (top scorer Colby Bishop scoring one penalty and missing another as Pompey came back from being 2 goals behind).
Last season Portsmouth never really recovered from early season losses.  In spite of a strong finish, they finished 10th in the league, 10 points short of the play-off places.  It may turn out to be a similar story this year.
This is only the 2nd time the 2 sides will have played each other, and the first visit for Rovers to Fratton Park.
Pompey have played in football's top tier and have won it twice (in 1949 and 1950)!  They have also won 2 FA Cups, 1 Community Shield & 1 EFL Trophy.  This is a club with an illustrious history.
Portsmouth began the season as a free-scoring team, averaging almost 2 goals a game.  This dropped off for a while but the side are showing signs that this could be returning, putting 4 goals past Cheltenham and 3 past Bolton in recent games at Fratton Park.
The key to their goalscoring has been the form of their summer signing of Colby Bishop from Accrington Stanley.  Bishop (who wears number 9) has 19 goals in the league this season and is by far Pompey's leading marksman.
But there have been warm plaudits for their 18 year-old Tottenham loanee, Dane Scarlett (number 19).  Scarlett is a regular starter and former boss, Danny Cowley, described him as 'unplayable'.  Scarlett has scored 4 times this season, which makes him Pompey's 2nd highest scorer.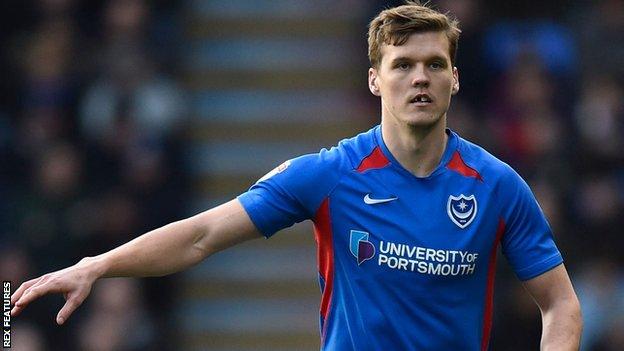 Defender Sean Raggett (number 20) was Pompey's player of the season last season.
Striker Colby Bishop is the man in form for Pompey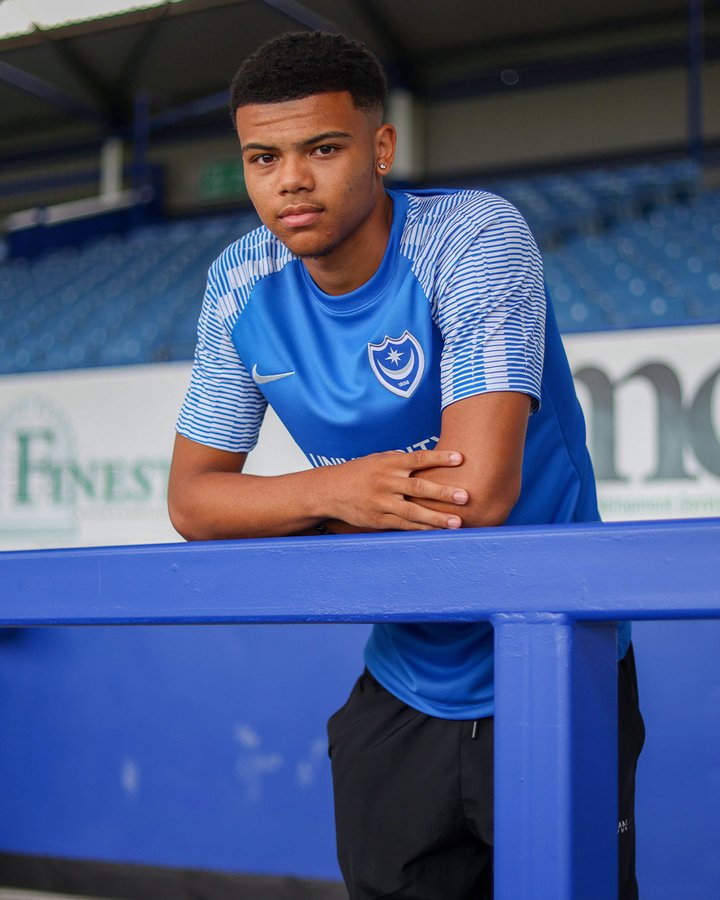 Dane Scarlett has made an impact on loan from Spurs
The most recent connection between the 2 clubs was the departure of Rovers' Director of Football, Rich Hughes.  Hughes was poached by Portsmouth last month, after turning them down during the summer.
FGR accused Portsmouth of making an illegal approach for Hughes in September, in breach of EFL regulations.
Former FGR Director of Football, Rich Hughes, now at Portsmouth
Portsmouth are one of only 5 clubs to have been champions of all 4 of England's top divisions.
They have been a top flight or Championship side for most of their history.  Financially troubled, they fell fast from the 2nd to the 4th tier in 1979 but managed to claw their way back spend one season in the top flight 1988.  Several Championship years followed before they returned to the Premier League in 2003.  They stayed in the Premier League for 7 seasons before more financial troubles and another fast fall saw them back in the 4th tier in 2014.  to the side as recently as the 1987/88 season, though they only stayed there for one season.  A promotion in 2017 put them back into the 3rd tier (the same season Rovers came into League 2).
Recent successes for Pompey include winning the FA Cup in 2008.  They defeated Cardiff City 1-0 in the final, with a goal from Nwankwo Kanu, having put out Man Utd & West Brom in previous rounds.  The success came under the stewardship of manager Harry Redknapp.  The Portsmouth squad also included names such as David James, Jermaine Defoe & Sol Campbell.
Portsmouth are nicknamed Pompey, but the nickname also applies to the town of Portsmouth which was a nickname that existed before the football club adopted it.
Portsmouth's main rivals are Southampton, who Pompey fans (not so!) affectionately refer to as 'Scummers'.
Expect to hear 'The Chimes' sung by Pompey supporters – often as an encouragement before corner-kicks, penalty-kicks or direct free-kicks.  It's the believed to be the oldest football chant still in use.
Play up Pompey,
Pompey play up!
Play up Pompey,
Pompey play up!
Harry Redknapp led Pompey to FA Cup success in 2008