Wycombe play at Adams Park, near High Wycombe, Buckinghamshire.  It's about 75 miles from Nailsworth heading towards London.  It is known as one of the most family-friendly EFL grounds to visit.  If the weather is kind, there are usually a lot of activities around the outside of the ground for both kids and adults who arrive early.
By rail – Rail travel is possible, but it has drawbacks.  There are changes in Didcot and Oxford, if travelling from Stroud.  The journey time is 2 hours 30 minutes (approx).  The cost is high – over £100 for the return journey.  The station is 2-3 miles from the ground so, realistically, too far to walk.  There is a Bank Holiday schedule in operation.  On the plus side, there should be enough trains to get you there and back on the day.
By car – the post code for SAT NAVS is HP12 4HJ.  Adam's Park is about 75 miles from Nailsworth by road – a journey of about 1 hour and 30 minutes.  There is a fair sized car park located at the ground which costs £5 per car (pre-booking needed), but this is at the end of a dead-end road (Hillbottom Road) leading to the stadium, so getting away at the end of the game can be a nightmare.  Probably better to park in one of the industrial units along Hillbottom Road which provide match day parking from £3 – £5.  The walk to the ground is still short from these industrial units.  There is also street parking (warden patrolled so watch where you park).
Adams Park has been Wycombe's home since 1990 and can accommodate just over 10,000 spectators.  It's a friendly ground, usually there are loads of activities and food/drink outlets on the large concourse alongside the stadium.  Plenty to interest you if you arrive early.
Visiting supporters are behind one of the goals in the East Stand (Dreams Stand), which is nearest to you as you approach the ground.  The view of the pitch is very good, and, if the football disappoints, the outlook onto open fields is excellent and you can keep an eye out for red kites soaring overhead!
This is the 5th meeting between the sides.  There were 2 meetings in League 2 in the 2017/18 season, a League Cup tie in 2018 and, this season, the November game between the sides in Nailsworth.  The head-to-head record between the sides shows Wycombe have won all 4 games.  The return match last November finished 2-0, Wycombe scoring 2 first half goals.
Wycombe are in 8th place in the table and 5 points short of a play-off place.  Their form has started to stutter a little at a crucial time.  This has coincided with losing their long-serving manager, Gareth Ainsworth, to Queens Park Rangers.  Just 9 points from their last 9 games is the kind of return that will be starting to worry their supporters.
Generally, their form has been pretty good.  They may not be a prolific goalscoring team, but defensively they have been one of the toughest teams in the league to score against and they have overturned some of the top sides at home this season (Derby, Peterborough, Ipswich, Bolton).  But, in their last match away at Ipswich on Good Friday, they were comfortably beaten 4-0, without managing one attempt on target.
Wild Thing, Gareth Ainsworth, now managing QPR!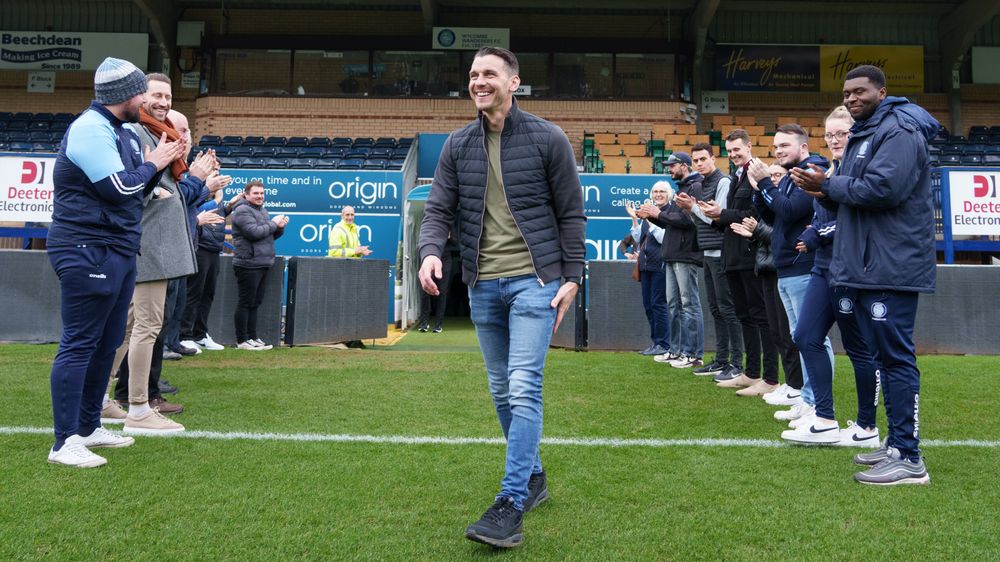 Matt Bloomfield was unveiled as Wycombe's new manager in late February after the departure of Gareth Ainsworth.  Bloomfield was a Wycombe player from 2003 until he left to manage Colchester Utd, his first managerial appointment – almost the entirety of his playing career.  His time at Colchester only lasted about 6 months before his move back to Wycombe as manager.
Bloomfield's first 8 games in charge have seen Wycombe win 2, lose 3, and draw 3.
Former manager, Gareth Ainsworth, was at Wycombe for 10 and a 1/2  years.  He became the second longest serving EFL manager (behind Harrogate's Simon Weaver).
Wycombe's threat this season has come from 2 of their midfielders.  Still only 21, Anis Mehmeti (number 11) is an attacking midfielder who is in his 3rd season with Wycombe, and it looks like being his best season yet.  Rejected by Spurs, Fulham & Norwich, Mehmeti has 9 goals this season and is Wycombe's top scorer.  However, Mehmeti has only scored once this calendar year.
Close behind him with 8 goals is another attacking midfielder, Lewis Wing (number 10).  Wing spent 5 years in the Championship with Middlesborough before joining the Chairboys.
Maybe Wycombe's talisman is 33 year old striker Sam Vokes (who wears number 9).  Vokes is a Welsh international with over 60 caps as well as Premier League experience with Wolves and with Burnley, and many appearances for a host of Championship clubs.  He joined Wycombe last season and scored 16 goals in the league.  He has 6 goals this season so far and will doubtless pose a threat.  Winger Garath McCleary (number 12) has 6 goals to his name, while midfielder David Wheeler (number 7) also has 6 goals – which is almost as many as he scored in the whole of his first 3 seasons with Wycombe.
Vokes was named in SkySports League 1 team of the year last season.  He was joined by 2 other Wycombe players – the back pairing of Ryan Tafazolli (number 6) and Joe Jacobson (number 3).
Anis Mehmeti (number 11) has led the Wycombe scorers this season with 9 goals.
Attacking midfielder, Lewis Wing (number 10), has scored 8 times this season.
Striker Sam Vokes (number 9).
Defender Ryan Tafazolli (number 6).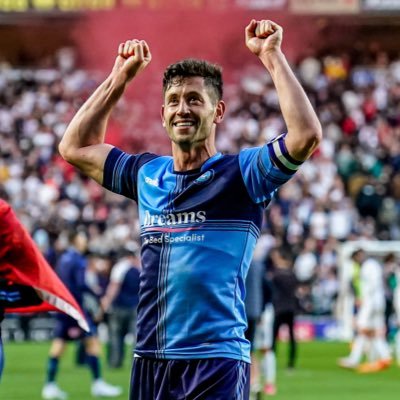 Fellow defender Joe Jacobson (number 3).
Former Wycombe legend, Adebayo Akinfenwe, is one of the faces that people most associate with the club.  Adebayo was at Wycombe for 6 seasons before retiring at the end of last season.  He came out of retirement in March this year and is playing as a striker for Isthmian League side, Faversham Town.  Rumour had him joining the line-up of last year's 'I'm a Celebrity Get Me Out of Here!' – rumours that turned out to be wrong.  Maybe he was ousted by Matt Hancock!?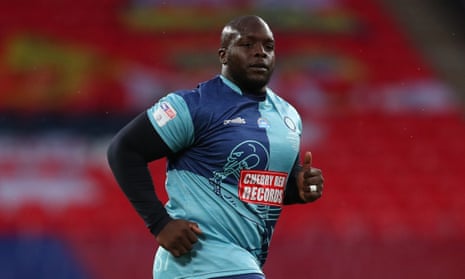 Adebayo is now with Faversham Town after coming out of retirement.
Wycombe are relative newcomers to the EFL.  They won promotion from the Conference in 1993, then immediately won a second promotion to League 1.  3 relegations and 3 promotions saw them see-saw between League's 1 & 2 until, in 2021, they were promoted to the Championship for the first time.  The stay in the Championship was a short one during a covid-affected season.  Wycombe were relegated in their first season – one point behind Derby, who then went into administration.  Wycombe considered legal action to recoup potential losses of up to £20 million.
Behind the scenes, the club was taken over by The Wycombe Wanderers Trust (supporter owned) in 2012, and Gareth Ainsworth took over as player-manager soon afterwards.  The club was recently taken over by Rob Couhig, whose company bought a 75% stake.  The club is still partly fan-owned – the Wycombe Wanderers Trust own the other 25% of the club.
The club has a great community feel and Adams Park is known as one of the best family-friendly grounds to visit.
The nickname 'Chairboys' comes from the tradition of chair-making in High Wycombe.
If you wondered about the 'swan' on their crest, Buckinghamshire, in Anglo-Saxon times was known for breeding swan for the King – the county flag and the arms of many Bucks towns (including High Wycombe) feature a swan.  A swan has been on Wycombe's crest for over 130 years.
Wycombe's mascot, 'Bodger the Chairboys' has won some acclaim as being one of the top ten bizarre and hilarious mascots in world football.  Bodger is, in some people's accounts, named after Tony 'Bodger' Horseman, the club's all-time record scorer (between 1961 & 1978).  But a bodger is also a turner who fashions chairs out of beechwood.  You choose which you prefer!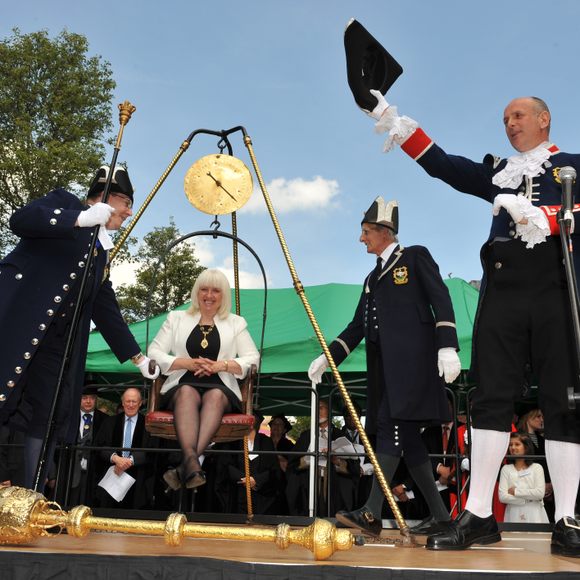 If you come across a man or a woman being weighed in public and lots of ceremonial costume, you will have stumbled on one of the more bizarre customs in High Wycombe.  Since the 17th century, the town's mayor has been weighed on the anniversary of their appointment.  If the mayor has gained weight during the year, then this is seen to be at the taxpayers' expense and there will be boos and, in the past, the pelting of rotten fruit and veg.
Nowadays, the actual weight of the mayor isn't revealed, just whether he or she has lost or gained a few pounds!