It's 160 miles from Nailsworth to Bolton, a road journey of about 3 hours each way.  It's a Tuesday evening (7.45) kick-off.
By Supporters Club Coach.  For full details of Away Travel which has changed from last season, this includes pick up times: – look at FGR Away Travel – Forest Green Rovers Supporters Club (fgrsc.com)  For further information, including pickup point locations see Away travel arrangements 22/23 – Forest Green Rovers Supporters Club (fgrsc.com).  Book your coach ticket with your match ticket from FGR (25% discount for FGR Supporters Club members) but note that you need to call FGR Reception to get the coach discount (phone 0333 123 1889 Monday to Friday, between 9am and 3pm).  Please try to book early.  Coaches leave TNL at 12.45 pm, Sainsburys 1.00 then Stonehouse 1.15pm.
By Train – Quite apart from any possible industrial action, this probably isn't a trip for the train unless you are planning an overnight stay.   There is a hotel just behind the away end and 19 of the 125 rooms have a view of the pitch, in case you are tempted!
By Car If you are driving, BL6 6JW is the postcode for Sat Navs.  There is parking at the stadium specifically designated for away fans- it's Car Park A, sat nav postcode is the same as for the stadium and the cost is £7.  There are cheaper car-parks if you don't mind a walk of 10 or 15 minutes.
The stadium is considered by some to be one of the most spectacular in the country, especially from the outside and particularly at night.
The capacity is slightly short of 29,000 and it is an all-seater.  Average home gates this season are around 18,000 people.
Away fans are usually housed in the upper tier of the South Stand.
Ticket prices fluctuate depending on the anticipated popularity of the game – expect an adult ticket to be between £30 and £35, so on the pricey side.
The Trotters are looking strong this season, lying in 5th place in the table, solid play-off contenders albeit 11 points away from the automatic promotion spots.  They have 12 wins, 8 draws and 6 defeats from their 26 outings.
One of these defeats was in the reverse fixture in Nailsworth in October where a first-half Connor Wickham goal proved the difference between the sides.  Rovers won 1-0 but were certainly having to hang on in the second half.
Bolton don't score buckets of goals, but they do have a mean defence – just 20 goals conceded this season.
The 2 clubs have had just three league meetings – the other 2 were in the 2020/21 season in League 2.  Rovers won 1-0 away but lost by the same score at home.
Last season was Bolton's 1st season back in League 1 after promotion from League 2 in 2021.  They finished last season in a very solid 9th place, albeit not really troubling the play-off places.
The impressive University of Bolton Stadium.
Frontman Dion Charles (number 10) is Bolton's in-form striker.  Charles is the leading scorer with 9 goals.
But Bolton have a number of attacking options – last year's Player of the Season and top scorer, Dapo Afolayan (number 17) is one, Icelander Jón Daði Böðvarsson (number 9) is another.  Both have 3 goals this season.  But Böðvarsson went off injured in Bolton's last outing against Portsmouth and may not figure for the Trotters.  But Bolton have recently brought in a new number 9 on loan from Southampton, Dan Nlundulu.
19 year-old midfielder Conor Bradley has 4 goals (2 of them penalties) and is second top scorer for Bolton, as well as leading Bolton's table of assists (with 3).  Bradley is on loan from Liverpool.
Northern Ireland international Dion Charles was signed from Accrington in the summer
Irish midfielder  Conor Bradley has 4 goals for Bolton this season (2 penalties) and is the second top scorer for the Trotters.
From Bolton to Nailsworth
One of Bolton's attacking options, until recently, was Sierra Leone international Amadou Bakayoko.  Amadou was Bolton's second top scorer last season but has played fewer minutes for Bolton this season than fellow attackers Charles, Bodvarsson, Afolayan & Kachunga.  In addition, Bolton's signing of Dan Nlundulu from Southampton seemed to make Amadou's position even more marginal.  So, the 6ft 4in 27 year-old, who grew up in the Midlands, has signed a 2 year deal with FGR and would be eligible to return to his former club.
Ian Evatt has been Bolton's manager for 2 years.  He guided the club's promotion to League 1.  He had previously spent 2 years at Barrow where he achieved promotion to League 2 for this club (after a 48 year wait!).
Ian Evatt is a manager who prefers to play attacking possession-based football.  He has often decided against naming a substitute goalkeeper, preferring to have more attacking options (outfield players have done goalkeeping training, just in case!).  He will sometimes bring on attacking players when winning matches rather than defensive players, preferring to score more goals than defend a lead.  His Barrow team were nicknamed 'Barrowcelona' due to the attacking football they played.
He does have something of a temper – a red card, a ban and a fine followed his use of insulting, abusive and improper language when Wanderers played Port Vale in August.
Expect him to set his side up with his favourite 3-4-1-2 formation with Charles (number 10) and Kachunga (number 24) leading the line, though he does sometimes play 4-2-3-1.
Wanderers are now owned by a consortium called Football Ventures, who bought the club out of administration.  Bolton are a little unusual in having a female Chair, Sharon Brittan (pictured left with Dale), and Henry with former CEO, Emma Beaugeard.
Pink Floyd drummer, Nick Mason, was one of the backers of the consortium that now own Bolton.
Rovers fans will remember FGR being in conflict with Bolton 3 years ago over the Christian Doidge transfer fiasco.  Doidge was loaned to Bolton ahead of a transfer, but the money never materialised and Doidge had to come back to Nailsworth a few months later in early 2019.  Dale Vince said of the then Chairman, Ken Anderson, that he is "a rogue chairman, a slippery character and untrustworthy" and that Anderson's attitude to running up debt was "shocking" and "a sign of somebody who has been round the block on this kind of thing".  T-shirts were released by Rovers with proceeds going to Bolton's Supporters Trust while Wanderer's fans travelling to see FGR play at home against Bury were rewarded with free beer!
In May 2019, Bolton went into administration and came close to being liquidated before being sold in August 2019. In the pandemic-affected 2019/20 season Bolton were bottom of League 1 when the season was halted and they therefore dropped into League 2.
Thankfully for this famous old club the stewardship of Anderson is over. No longer are players going on strike frequently after being unpaid for 20 weeks, the water in the stadium is now drinkable and the showers are now working. An owner, described by some as "tyrannical", has gone, and few in Bolton were sorry.
Agreement between Bolton's new owners and FGR over Doidge's aborted transfer was finally reached in December 2019.  Doidge moved to Hibernian and is currently on loan at Kilmarnock.
Bolton's former Chairman Ken Anderson re-opened the debate about the EFL's 'fit and proper owners test'.
Christian Doidge is still FGR's top goalscorer with 61 goals.
The football league was started by Aston Villa Football Club in 1888 along with 11 other founder members. These founder members were all from the North and Midlands.  Bolton Wanderers were one of these founder member clubs.
Bolton have played league football ever since 1888 with more years spent in the top tier than outside it. They had a brief visit to the 4th tier in 1988 but won promotion straight back to the 3rd tier in 1989. In 2012 they had been a Premiership side for a decade before they started a steep decline. In 2020 they were relegated back to the 4th tier for only the second season in their history.  They won promotion back to League 1 at the first attempt.
One look at the University of Bolton stadium, tells you that Bolton are a club that are still punching below its weight. The stadium has been Bolton's home since they moved from Burnden Park in 1997. It has a capacity of almost 29,000 and is the 4th largest in League 1 (behind Sheffield Wednesday, Derby & Ipswich).
Bolton are known as The Trotters, The Wanderers or The Whites.  A trotter is, apparently, a local word meaning a practical joker!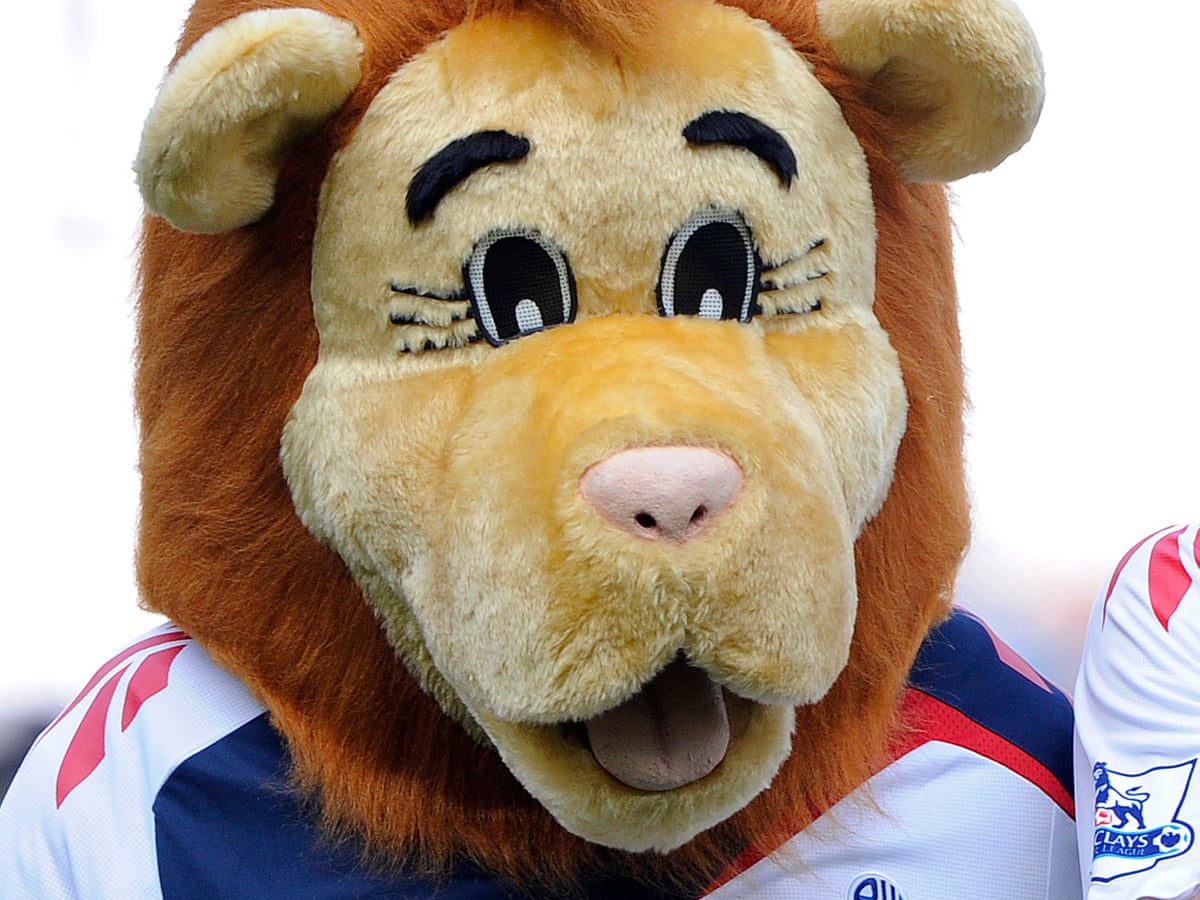 Lofty the Lion is Bolton's mascot.
Bolton is a large town in Greater Manchester, a few miles north-west of its larger neighbour.  The town was founded on textiles and became a 19th century boom-town.  At its peak in 1929 it boasted 216 cotton mills. Nowadays, this has all gone. Several regeneration projects are planned for the town over the next 10 years.
Born and bred in Bolton are a number of well-known personalities including steeplejack Fred Dibnah, boxer Amir Khan, and comedian Peter Kay.
Boltonian Peter Kay is one of the town's famous sons