Harrogate come to TFCNL for Rovers last home game of the season in what promises to be a celebration, whatever the result.  It's a bumper day for the Rovers Raffle, with prizes up to £300!
The Sulphurites began the season well, then things began to tail off.  Since the start of December, Harrogate have played 22 games, lost 12, drawn 5, and won only 5.  This run has dropped them from play-off contenders to 19th in the table.  They have been comfortably clear of the relegation places but are now 20 points short of the play-off places.
They have been a free-scoring side – 61 goals puts them among the division's top scorers (FGR lead the way with 71 goals this season).  The problems for Harrogate seem to have come at the back.  With 72 goals conceded in their 44 games, only Scunthorpe have a worse defensive record.
The game in Harrogate against Rovers in early December finished 4-1 to Rovers (Matt, Aitchison, Cadden and Stevens with the goals).
Harrogate's players to watch are among their attacking options.  Their 4 main strikers/attacking midfielders have scored more than 40 of Harrogate's 57 goals this season.  Harrogate have had a long injury list in recent weeks and suffered a huge blow when central defender Will Smith limped off during their recent game against Northampton and is now facing "several months" on the sidelines after rupturing his anterior cruciate ligament.  Matty Stevens will empathise!
Jack Muldoon, Harrogate's 32 year old striker (number 18) has 11 goals this season.
Durham-born Luke Armstrong (number 29) is the Sulphurites joint top scorer with 12 goals to date. 
Alex Pattison (number 16) is an attacking midfielder with 9 goals this campaign.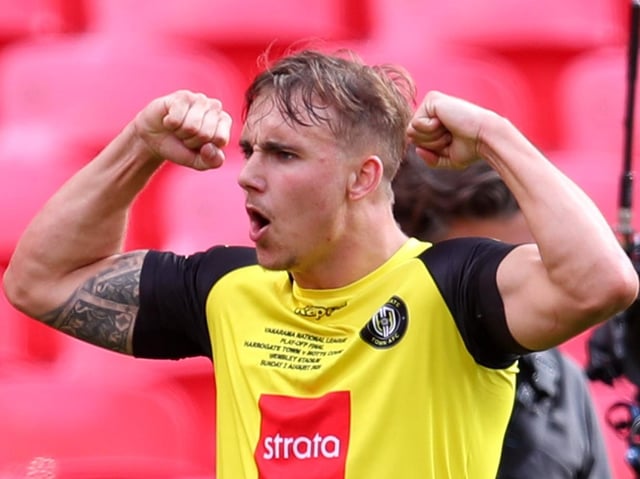 Sunderland loanee, Jack Diamond (number 21), is on his 2nd loan spell at Harrogate and has scored 12 times for them this season (their joint top scorer).
One Rovers player who knows Harrogate pretty well is Josh March.   Josh was signed by Harrogate on loan from Rovers last season.  Josh was brought in as a back-up to their veteran striker, Jack Muldoon, and scored several times for Harrogate during his stay in Yorkshire.
Josh March – went on loan to Harrogate last season.
Simon Weaver became manager of Harrogate Town in May 2009. Irving Weaver, his property magnate father, then bought the club in 2011. In 2011 the club had sold 7 season tickets for the season (they're up to nearer 1000 now). At that same time they only narrowly managed to escape relegation from the National League North due to financial irregularities elsewhere.
Three years ago they became a full-time professional team, and in May 2018 won promotion to the National League by beating Brackley Town 3-0 in the play-off final.
Two years later, in August 2020, Harrogate were in the National League play-offs after the season was curtailed. They went on to beat Notts County 3-1 in the final at Wembley and won promotion to the EFL for the first time in their history – one of the EFL's newest members!
A new stand had to be built to increase capacity to 5000 and bring their Wetherby Road ground (the Envirovent Stadium) up to EFL standards. They played their first few EFL home games at Doncaster's Keepmoat Stadium while their own synthetic 3G pitch was being replaced with grass.
Harrogate Town have been around for over 100 years (since 1914 in fact) but, until this season, have always played non-league football. Harrogate are known as the 'Town' or the 'Sulphurites' due to the town's famous sulphur springs.
Irving & Simon Weaver – the family outfit behind Harrogate Town.
About the club & Harrogate
Harrogate is in North Yorkshire, just east of the Yorkshire Dales National Park. For 3 consecutive years (2013-2015) polls voted the town "the happiest place to live in Britain". The spa waters helped to establish Harrogate as a tourist destination and a very wealthy town. It is generally considered to be the most expensive place to live in the North of England.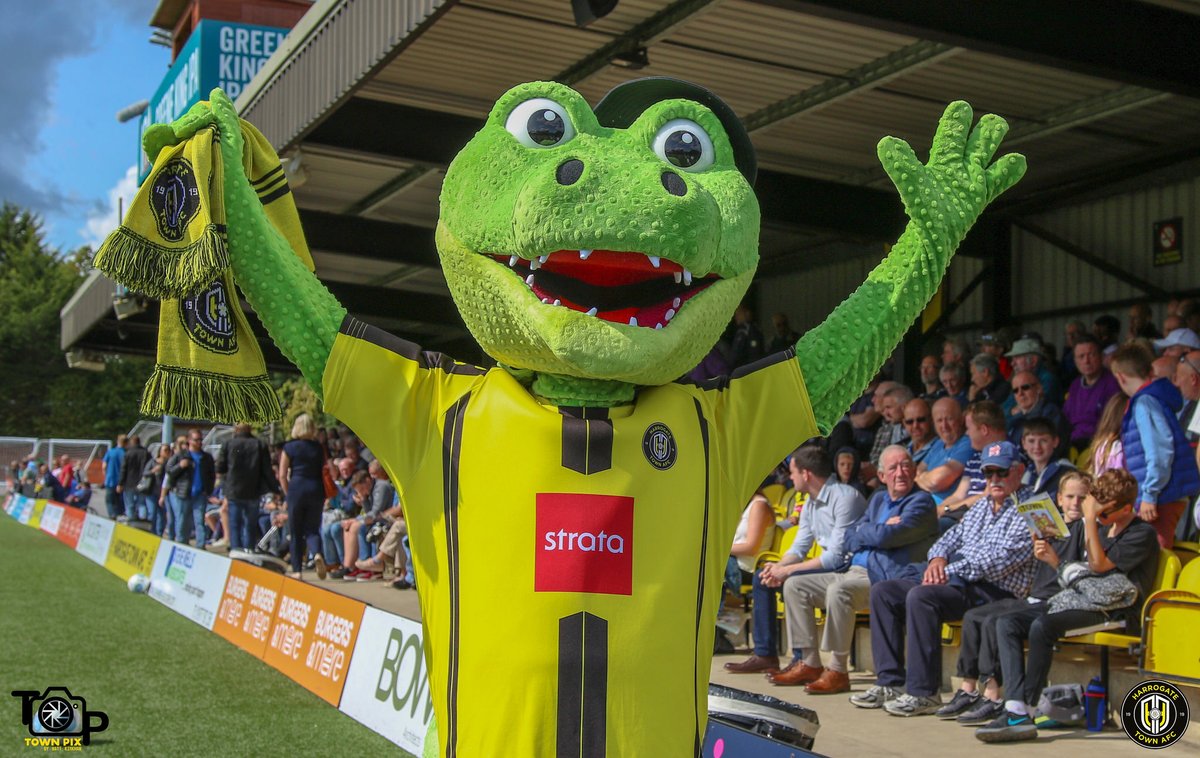 Harrogate introduced a new mascot in 2018 – 'Harry Gator'.  Harry was designed by students at a local college.
Harrogate's Winter Gardens in 1910, attached to the Royal Baths – now a Wetherspoons!