Rochdale come to Nailsworth for the first time in their history for a league game on Tuesday 8th February.  The first league meeting between the sides was in August in Rochdale.  Rovers won 2-1 on that day – some think they were lucky to come away with the victory.  A 33rd minute Jamille Matt goal was cancelled out by an Alex Newby equaliser in the 48th minute, followed one minute later by a Matty Stevens winner.
There are some in Greater Manchester who refer to League 2 as 'the Rochdale division', because the club have spent so much time there.  Rochdale spent 36 seasons in the 4th tier between 1974 and 2010, which is the longest any club has spent in the bottom tier of the EFL.  In fact, Rochdale have only ever played in the 3rd or 4th tier of English football over the last 100 years.  The club have the distinction of having played the most seasons in the EFL without ever reaching the top 2 tiers nor being relegated to the National League!
Rochdale made a return to League 1 in 2014 but were relegated last season back to League 2.  So this is the first time that FGR & Rochdale have been in the same division.
Rob Edwards considered Rochdale one of the best teams FGR had faced after the meeting last August.  But, since then, The Dale's attractive style of football hasn't really resulted in progress in the league.  Rochdale are in 18th place with 30 points from 26 games.  But they are a fairly comfortable 8 points above the relegation places.
Rochdale are clearly very capable of performing very well.  They have beaten sides like Tranmere, Northampton, Port Vale, Newport & Sutton this season and drawn with sides like Swindon, Mansfield & Exeter.  However, their form hasn't been that great recently – just the 1 win since October and, in that time, 11 draws.
It must be a concern to Rochdale fans that their talismanic striker Jake Beesley, who scored 9 goals for the side this season, has been sold to Blackpool for £300,000 plus a possible £100,000 of add-ons.  The 25 year old had been enjoying the best spell of his EFL career this season.
Also moving away from Rochdale is their talented 21 year old midfielder Aaron Morley who has been signed by Bolton for a fee believed to be around £100,000 plus add-ons.
So Dale have some cash in the bank from recent sales and have moved swiftly to replace Beesley……………………..
Rochdale will miss Jake Beesley – sold to Blackpool in January. 
………………..Luke Charman has been signed for Rochdale from Darlington for an undisclosed fee.  The 24-year-old forward has put pen-to-paper on a two-and-a-half-year deal at the Crown Oil Arena.
Charman has shown he has an eye for goal this season, scoring 12 times in 16 National League North games.  But he had two games of a four-match suspension to serve (carrying over from his time at Darlington) meaning he wasn't able to play before Dale travelled to Colchester United at the start of February.
New signing Luke Charman, has come in from Darlington.
There are some signs in recent games that Rochdale are still trying to find their best combination up front.  Alex Newby, Abraham Odoh, Coventry-loanee Danny Cashman, Birmingham loanee Josh Andrews & veteran Matt Done will all be vying to partner the new boy, Luke Charman.
Alex Newby (number 10) is Dale's leading scorer with 5, since the departure of Jake Beesley.
Abraham Odoh (number 18) usually figures up front or as an attacking midfielder for Rochdale.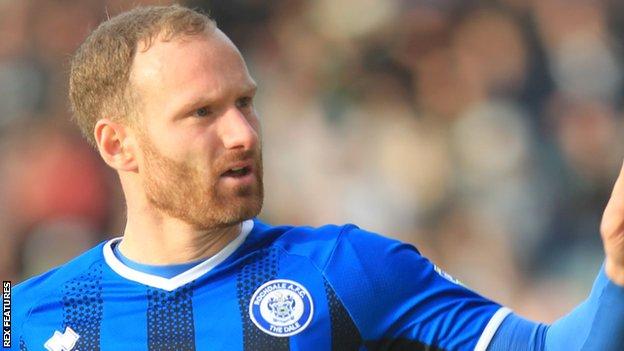 32 year old forward Matty Done signed a new 1 year deal last summer.  He is in his 3rd spell with Rochdale and has made 282 appearances during his time with them.
Rochdale, known as 'the Dale' play their fixtures at Spotland Stadium (also known as the Crown Oil Stadium for sponsorship reasons).  Spotland has a capacity of 10,249 and has been Rochdale's home for 101 years.
The club seem to be going through something of a transition in recent seasons.  They narrowly missed out on survival in League One last season and, as of last June, only had nine contracted first team players.
The board of Rochdale have been saying that they will look to sell the club to new owners in order to provide 'outside investment'.  They believe the team 'cannot compete and thrive without the injection of significant amounts of money' which is not currently available through the usual means, such as ticket sales and matchday hospitality.
A statement from the club's board said "As a football club operating at an elite level of professional football, we cannot compete and thrive without the injection of significant amounts of money that are not available to us in the traditional way that we have been funded throughout our history".  They say the club has been approached by a number of outside investors looking to buy shares but that none of these deals had been 'sufficiently detailed, credible or funded'.
Note – Rochdale fans have said "Really disappointing as I thought our recent power struggles had reached a wide audience among other league clubs, but apparently not. 
Apologies if we've misrepresented, Rochdale fans.  Please let us know how and we'll put it right.
Rochdale's Spotland Stadium.
One of Rochdale's famous former players is striker, Jimmy Greenhoff.  Dubbed one of the greatest players never to play for England, Greenhoff had the most successful spell of his seven-club career with Manchester United (1976-1980), scoring the winner (deflected off Lou Macari) in the 1977 FA Cup Final against Liverpool.  He then coached in Canada and at Port Vale before joining Rochdale as a player in 1982.  He went on to be player manager in March 1983.  He resigned a year later after a poor run of form and left football to set up an insurance company with a partner. The partner ended up going to jail for "mismanaging" the business, and Greenhoff, cleared of any wrongdoing, was left having to settle the company's debts. Losing everything, including his home, he now drives a forklift truck for a wallpaper warehouse in Alsager, Cheshire.
Jimmy's brother, Brian, something of an Old Trafford legend, who also played for the 1977 cup winning side, died suddenly in 2013 aged 60.  This robbed Jimmy of any chance of reconciliation with his brother – the two had not spoken to each other for over 20 years.  Brian's memorial service was at Rochdale Crematorium.
Jimmy Greenhoff (centre) winning the FA Cup with Man Utd.