Rovers travel to meet Salford City on Saturday 5th of March.
The Peninsula Stadium is a little under 3 and a half hours from Nailsworth by road (postcode M7 3PZ) – a journey of about 160 miles.  Coaches leave TFCNL at 09.40, Sainsburys at 09.50, & Stonehouse at 10.00.  Ring  KB Coaches on 01453 825 774 between  8.30am and 5pm  Mondays to Fridays to book your ticket (discount for Supporters Club members).  There is street parking near the ground but beware of matchday parking restrictions in the roads closest to the stadium.
Rail travel is just about possible, but only just – the last train back from Manchester Piccadilly to Stroud is at 18.27 (and the stadium is a half hour from the station and involves a bus).
The Peninsula Stadium is a small but fairly recently built ground.  Ticket prices are very reasonable and are the same wherever you decide to stand or sit in the ground; Adults £15, Concessions (over 60's and 16-21's) £10, Under 16's £5, Under 5's free.  Away fans can stand in the East Stand behind one of the goals or sit in a couple of blocks of the North Stand.  Prices are the same whether you sit or stand, but you may need to buy seated tickets in the North Stand in advance – East Stand tickets can be bought on the day.
Salford's guide for away fans is very good – follow the link to their pdf – Peninsula-Stadium-Guide
Salford are 11th in the league with 47 points from their 32 games.  But they are only 6 points off the play-off places and 2 good away wins against Leyton Orient and Swindon in their last 2 outings will have given them confidence that they can push for a play-off berth.
A solid defence has been Salford's foundation (they have conceded less than a goal a game on average this season).  But they haven't been prolific in front of goal – 37 goals scored in their 32 games.
In the return fixture in October, Rovers went behind to a Thomas-Asante goal before goals from Nicky Cadden, Kane Wilson and Jack Aitchison saw Rovers win 3-1.  Rovers can expect a tougher test when they go to Salford – the Ammies have been slightly more solid at home than on the road.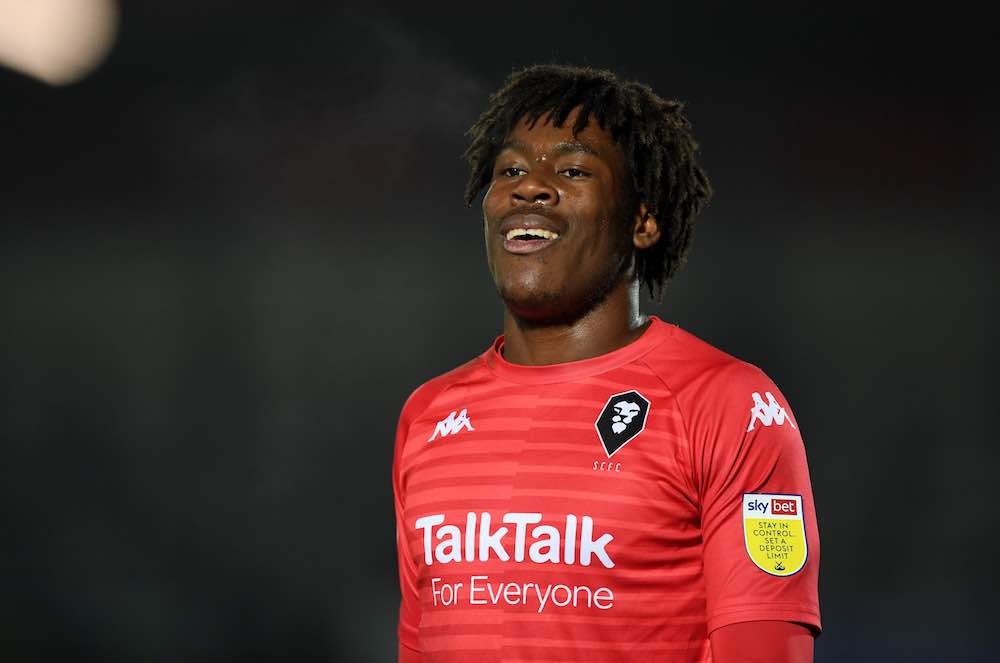 Brandon Thomas-Asante (number 37) is having one of his best seasons and, with 6 goals, is Salford's top marksman.
Midfielder Matty Lund (number 8) has also been a key man for Salford since arriving from Rochdale last summer.  The 31 year old has scored 5 times for Salford.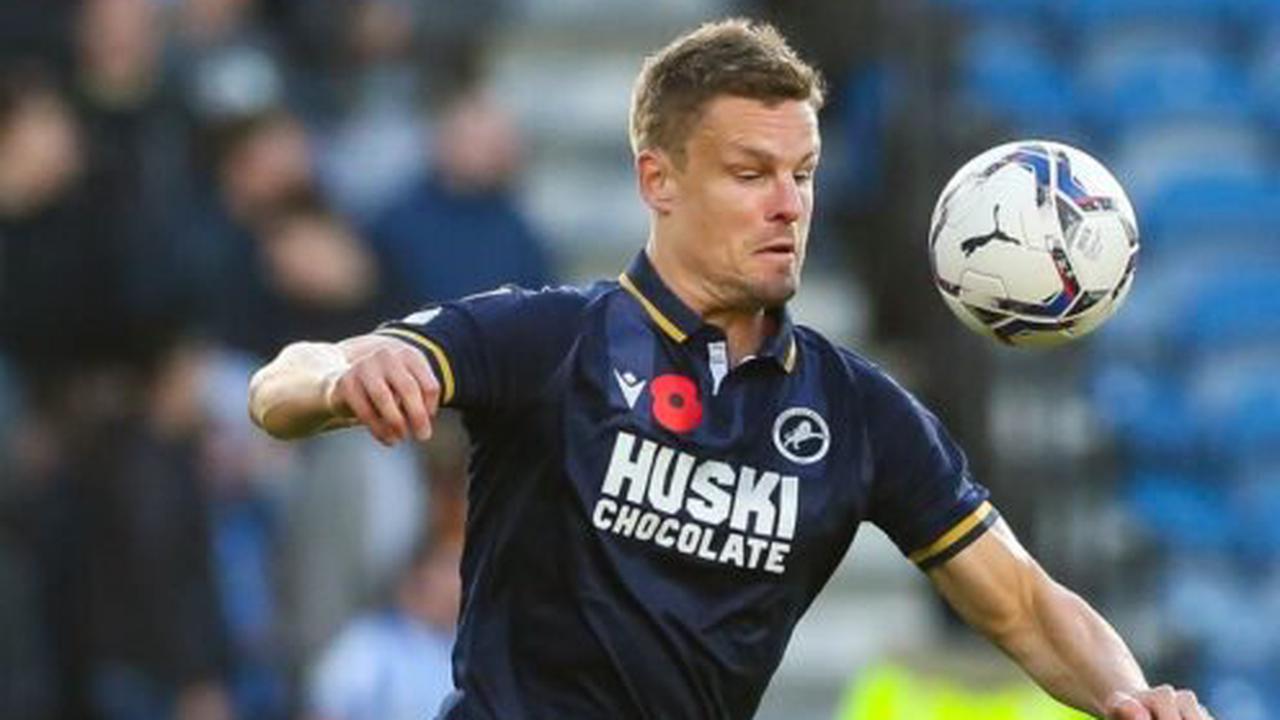 Salford signed striker Matt Smith from Millwall in January.  Now 32, Smith (number 19) has bags of Championship experience with clubs like QPR, Fulham & Leeds.  He scored his 1st goal for the Ammies in a victory over Carlisle but hasn't netted again yet.
While there have been changes up front for Salford, their defence has been pretty settled all season.  Jason Lowe (pictured – number 4), Ashley Eastham (number 5) and Jordan Turnbull (number 16) have started most of the Ammies games.
Rovers will revisit a familiar FGR 'old boy' in Liam Shephard.
Liam was with Rovers for 2 seasons between 2018 and 2020 before moving to Newport for a season.  After rejecting a contract extension at Newport he moved to Salford on a 2 year deal last summer.  The right-sided midfielder has started most of the Ammies' games this season and has scored twice and been a key man with his trademark assists.
Liam Shephard in his FGR days …….
….. and in his current colours.
What else do we know about Salford City? The club were founded in 1940 as Salford Central. It changed its name in 1963 to Salford Amateurs (where their nickname 'The Ammies' comes from) before becoming Salford City in 1989.
At each home game the team walks out to The Pogues' cover of Dirty Old Town. The Pogues were originally called Pogue Mahone from the Gaelic phrase póg mo thóin, which means 'kiss my a***'! Dirty Old Town is a 1949 Ewan McColl song which was inspired by the singer's childhood in Salford, hence its connection to the club. The song opens with the lines;
I met my love by the gas works wall Dreamed a dream by the old canal I kissed my girl by the factory wall. Dirty old town, Dirty old town
The Pogues 1984 album Rum Sodomy and the Lash relaunched the song Dirty Old Town – the song that Salford City walk out to at home matches.
In March 2014 the club was taken over by former Manchester United players Ryan Giggs, Gary Neville, Phil Neville, Paul Scholes & Nicky Butt (the 'class of '92'). Later in 2014 a 50% stake in the club was sold to Peter Lim, a Singapore-based businessman who also owns Valencia CF.  In 2019 David Beckham bought a 10% stake in the club from Peter Lim.
Since 2014 the club have been promoted 4 times. In 2014 the club had ambitions to reach the Championship within 15 years. They may be on schedule!
Paul Scholes, Phil Neville, Ryan Giggs, Nicky Butt, David Beckham
& Gary Neville – 6 of Salford's 7 owners. Peter Lim is owner number 7.
The club's Moor Lane ground was completely demolished in 2017 to allow for the building of 4 new stands. The ground is now called The Peninsula Stadium.
Rumours have persisted that Salford may be moving home.  The AJ Bell Stadium is currently shared by Rugby Union's Sale Sharks and Superleague's Salford Red Devils.  It may happen that the Red Devils and Salford City change places so that Salford move to the AJ Bell and the Red Devils come to the Peninsula Stadium.
The Peninsula Stadium has a capacity of just over 5,000, while the AJ Bell can house 12,000 (with capacity to increase this to 20,000).  It remains to be seen whether this happens – Salford's average gate this season is (excepting Harrogate) the lowest in the league at just over 2,000.
Salford's Peninsula Stadium on Moor Lane.
Might the AJ Bell Stadium become Salford's new home?