Sheffield Wednesday arrive on Sunday 19th March for a 1pm kick off.  The match is being televised on Sky, so expect the usual miles of cables, cameras, and TV vans.
On paper, this is Rovers toughest home game.  Wednesday boast the following;
top of the league by 1 point with 2 games in hand
the best away record in the league
unbeaten since early October
the meanest defence in the league (just 23 goals conceded)
the league's 3rd best attack
the team that inflicted Rovers worst defeat of the season (5-0) at Hillsborough
In short, they are doing very well, and will be expecting this season to return them to the Championship.
They have lost just 3 games, drawn 9, and won 23 times.  Their 3 losses were away at Plymouth & Peterborough, and at home against Barnsley.  They score in almost 90% of their games and have racked up 5-goal wins on 3 occasions (against FGR, Cambridge & MK Dons).
Wednesday started the season playing the 3-5-2 formation that worked well for them last season, though their manager often changes the team around a bit.
Barry Bannan was Wednesday's player of the season last year.  The 33 year old Scot has been with Wednesday since 2015.
Quite a few players Rovers will need to be careful of!  Midfield maestro Barry Bannan (number 10 – see above) has 5 goals, one against FGR in the Hillsborough game.
Josh Windass (son of former pro, Dean Windass) is having one of his best seasons.  The attacking midfielder (number 11) is Wednesday's top scorer with 11 goals – he also scored against FGR at Hillsborough.
Michael Smith (number 24) is also scoring freely.  He scored 19 goals last season with Rotherham before making the move to the Owls – he has 10 goals so far this campaign.
Liam Palmer (number 2) has been at Wednesday for 13 seasons – pretty much the whole of his professional career.  His 5 goals this season is his best goalscoring tally.
Josh Windass is aiming to be the Owl's top scorer.
Wednesday frontman Michael Smith.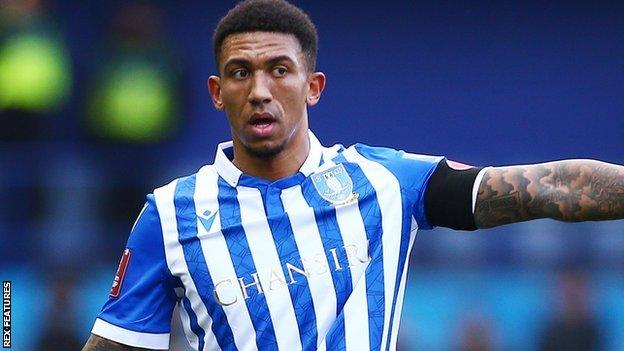 Scottish right back Liam Palmer is Wednesday through and through.
Wednesday manager Darren Moore
Wednesday's manager is Darren Moore.  Moore, who has previously managed West Brom and Doncaster Rovers, took charge of the Owls in March 2021.
Moore persisted with his favourite formation 4-2-3-1 last season until results began to falter.  A change to 3-5-2 reinvigorated Wednesday's season – they carried a greater attacking threat after switching to two up front and the formation tweak seemed to bring the best out of last season's key men Bannan and Lee Gregory.
After coming so close to achieving promotion, Moore initially stuck with 3-5-2 this season rather than reverting to his favoured 4-2-3-1?  Last season, the Owls finished fourth, just five points shy of second-placed Rotherham United.  They lost out in the play-off semi finals to eventual winners, Sunderland.
Formed in 1867 as an offshoot of the Wednesday Cricket Club (itself formed in 1820), they were known as The Wednesday Football Club until 1929.  The founding members had a half day off on Wednesdays to play sport!  They are one of the oldest football clubs in the world of any code, and the second-oldest professional association football club in England.
They have won four top flight league titles, 3 FA Cups, 1 League Cup & 1 Community Shield.  They have competed in European competitions in 4 seasons.  A 1-0 victory over Manchester United in the 1991 League Cup Final remains the last time a team from outside the top flight has won one of English football's major trophies.
The club play in the Sheffield suburb of Owlerton, which is where their nickname of The Owls comes from.
Inevitably, their biggest rivalry is with Sheffield United.  Their meetings are known as Steel City derbies!  There hasn't been one since 2019, and with Sheffield Utd vying for promotion to the Premier League, the wait for the next one may go on!
Ozzie Owl – Wednesday's main mascot
With average home crowds last season of almost 23,000 (2nd only to Sunderland in League 1 last season) Hillsborough, with its 39,732 seats, is the ground with the 12th largest capacity in England.  Hillsborough is a historic and traditional football stadium rated as one of the best 'awaydays' in the league.
Hillsborough was a risky move when the club moved to the stadium in 1899, as the new ground was a few miles away from the city centre.  But the stadium has since hosted World Cup football (1966), the European Championships (1996) and 27 FA Cup semi finals.  When the Kop at Hillsborough was re-opened in 1986 by the Queen, it was then the largest covered stand of any football stadium in Europe.
On 15 April 1989, at an FA Cup semi-final between Liverpool and Nottingham Forest 97 Liverpool fans were crushed to death after the terraces at the Leppings Lane end of the ground became overcrowded, in what became known as the Hillsborough disaster.  A subsequent report concluded that the root cause of the disaster was the failure of local police to adequately manage the crowds.  A memorial to the victims of the disaster stands outside Hillsborough's South Stand, near the main entrance on Parkside Road.