This is a Sunday midday kick-off for the final game of the season at Cambridge.
By coach – Supporters Club Coaches – the club have announced that, as a 'thank you' for supporting the club through a difficult season, travel to this match by coach will be free.  Coaches leave between 0600 and 0630 for the trip and you should buy your match ticket and travel together from the club either in person or by phone  – phone 0333 123 1889 Monday to Friday, between 9am and 3pm.  Please try to book as early as you can.
By rail – Rail travel doesn't look possible unless you are planning to stay over the night before.  The early kick-off means you can't get there on the day.  If you do choose the train, the costs at time of writing started at about £70 return.  The journey time is just over 3 hours but you are likely to have 3 changes and you'll need to cross London.  Watch out for rail replacement services when you book – Sunday is a popular day for these.  The stations (either Cambridge or Cambridge North – both work equally well) are both a couple of miles from the ground, meaning a £9 taxi or a 30 minute walk.  There are services until 8.30 pm to get back to Stroud.
By car – the address is Newmarket Road, Cambridge – the post code for SAT NAVS is CB5 8LN.  Whether you drive near to London or near to Birmingham, it's a cross-country route of about 170 miles to Cambridge from Nailsworth that will take about 3 hours each way.
There is no parking for away fans at the ground.  There is some parking to be had on the streets surrounding the stadium.  Around a mile and a half away on Newmarket Road on the outskirts of Cambridge is a Park & Ride facility that fans can use on Saturday match days (it's unclear whether this will operate on a Sunday but it's probably worth a look – you are likely to pass it on your way to the ground).  Although set up to take shoppers into the City Centre it passes and will stop near the ground.  The cost is £2.50 return per person (or £3 for one adult plus one under 16).  After the match there is a dedicated Park & Ride bus parked across from the stadium to take fans back to the park and ride. The Park & Ride post code is CB5 8AA.  Traffic after games can get a bit deadlocked so parking further away may be a smart choice.
The stadium is about 100 years old (it has been Cambridge's home for about 90 years).  It has a capacity of just over 8,000 (just over half is seated).  Away fans are housed in the Mead Grab & Plant Stand at one end of the ground, where up to 1,600 supporters can be accommodated.  This relatively new covered, all seated stand has good facilities and is raised a little above the pitch.  Although you are set back a bit from the playing action, there are, generally, good views of the game.  Visitor feedback suggests it's a good awayday – relaxed and friendly.
This is a crucial match for Cambridge.  After their narrow 1-0 loss to Burton Albion on Wednesday Cambridge have to win against FGR on Sunday.  They also have to hope that neither Morecambe nor MK Dons win their final games (both are playing away from home).  At the moment Cambridge are in 22nd place in the league, a point behind Morecambe and MK Dons.  The game against Rovers could well decide their season.
Don't expect a goalfest!  Cambridge and FGR are the 3rd lowest and lowest scoring sides in this league (39 for Cambridge, 31 for FGR).  Defensively, neither side have done that well (Cambridge have conceded 67 times, FGR 87 times).
In the return fixture in Nailsworth on 3rd December, Josh March opened the scoring in the first half,  then Cambridge equalised in the 89th minute before Connor Wickham converted a penalty in added time to give Rovers the 2-1 win.
Cambridge have a much better home record than they have on the road.  Although they are in the relegation places in 22nd place, this could have been much worse.  The U's went on a mini-run of 3 wins and a draw in 4 games which gave their fans hope.  However, their next games were a home loss to Wycombe, an away defeat at Plymouth and then an away win at struggling Accrington.  However, they then lost a crucial midweek away match at Burton on Wednesday, 1-0.  This has now put Cambridge's season on a knife-edge.
Have a look at what U's fans are saying ahead of the game on their unofficial fans forum https://cambridgeunitedfc.proboards.com/
The head-to-head record in the EFL between the 2 sides makes good reading for Rovers with 5 wins and 2 defeats for FGR.  The 2 sides played each other in the 20/21 season before  Cambridge were promoted automatically that season as runners-up.  They finished in a comfortable 14th place last season – their first season back in League 1.  In December, Rovers beat Cambridge 2-1 with an added time winner from the penalty spot.
Some Rovers fans may remember a painful day in September 2009 in the National League when Cambridge equalled their best ever result – 7-0 at home to FGR!
Cambridge born and bred, Mark Bonner, is the U's manager.  He was appointed in 2020 after a spell as assistant manager and this has been his only managerial appointment.  Bonner oversaw the U's promotion back into League 1 in 2021 which resulted in the club offering him a new 3-year deal.
Mark Bonner, the Cambridge manager.
Cambridge often line up as a 4-2-3-1 with Joe Ironside the usual frontman.  Ironside has 6 goals to his name this season in the league.  Fellow striker Sam Smith (number 10) has 12 goals this season and is top scorer.  Between them, Ironside and Smith have scored half of all Cambridge's goals this season.  However, watch for Harvey Knibbs (number 26) who sits behind the striker(s).  Knibbs has scored 5 goals for the U's this campaign.
Left sided defender/midfielder, Harrison Dunk (number 11) is now in his 12th season at Cambridge and has played for them in 3 different divisions.  But in defence it'll probably be Lloyd Jones (number 6) to keep an eye on.  Jones signed for the U's in 2021 when they were promoted to League 1 – his first professional contract was with Liverpool, but most of his career has been in the 3rd and 4th tiers.
Striker Joe Ironside (number 9) is a traditional centre forward who's good in the air and with his back to goal.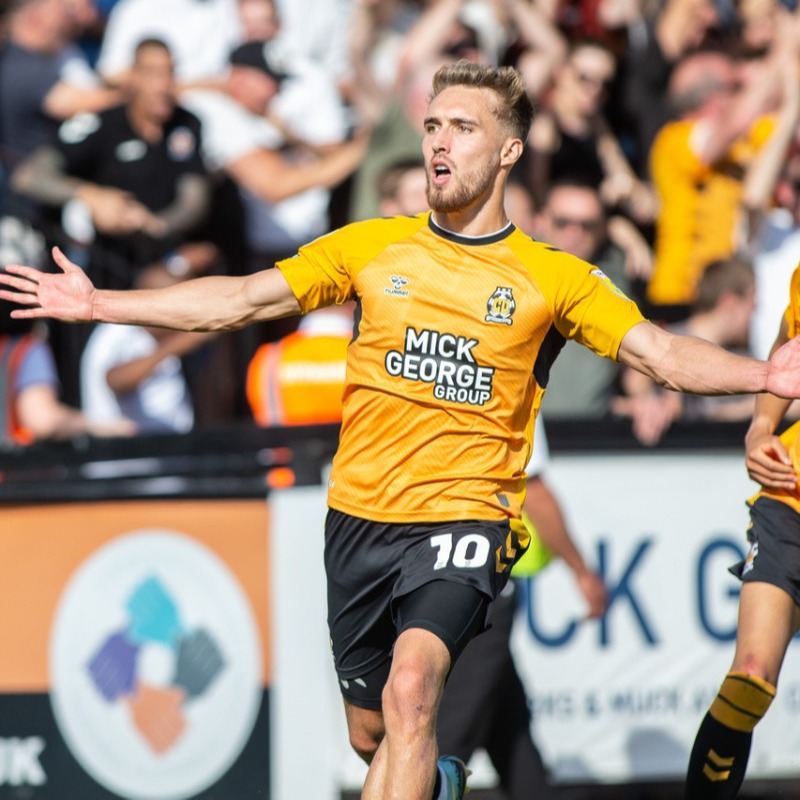 25 year old striker Sam Smith (number 10) is top of Cambridge's scoring with 12 goals.  The Reading academy graduate went on 6 loan spells before signing for the U's in 2021.
Founded in 1912 as Abbey Utd, they only became Cambridge Utd in the 1950's.  They play at the Abbey Stadium, just east of Cambridge.  They first won promotion into the EFL in 1970.  After this they have yo-yoed a bit – 2 spells in the 2nd tier, then a decade in the National League after they went into administration in 2005.  Most of their time in the EFL has been spent in the 4th tier.  They won promotion in 2021, so this is their 2nd season back in the 3rd tier.
The club's most famous former managers have included Ron Atkinson (from 1974-78) who went on to manage Manchester Utd.  Perhaps their most famous former player is Dion Dublin, who played for the club between 1988 and 1992 before Alex Ferguson signed him for £1m for Manchester Utd (it was something of a surprise purchase after Utd had missed out on signing Alan Shearer).  Dion is a club director at Cambridge but will probably now be better known for his football punditry or for presenting 'Homes under the Hammer'.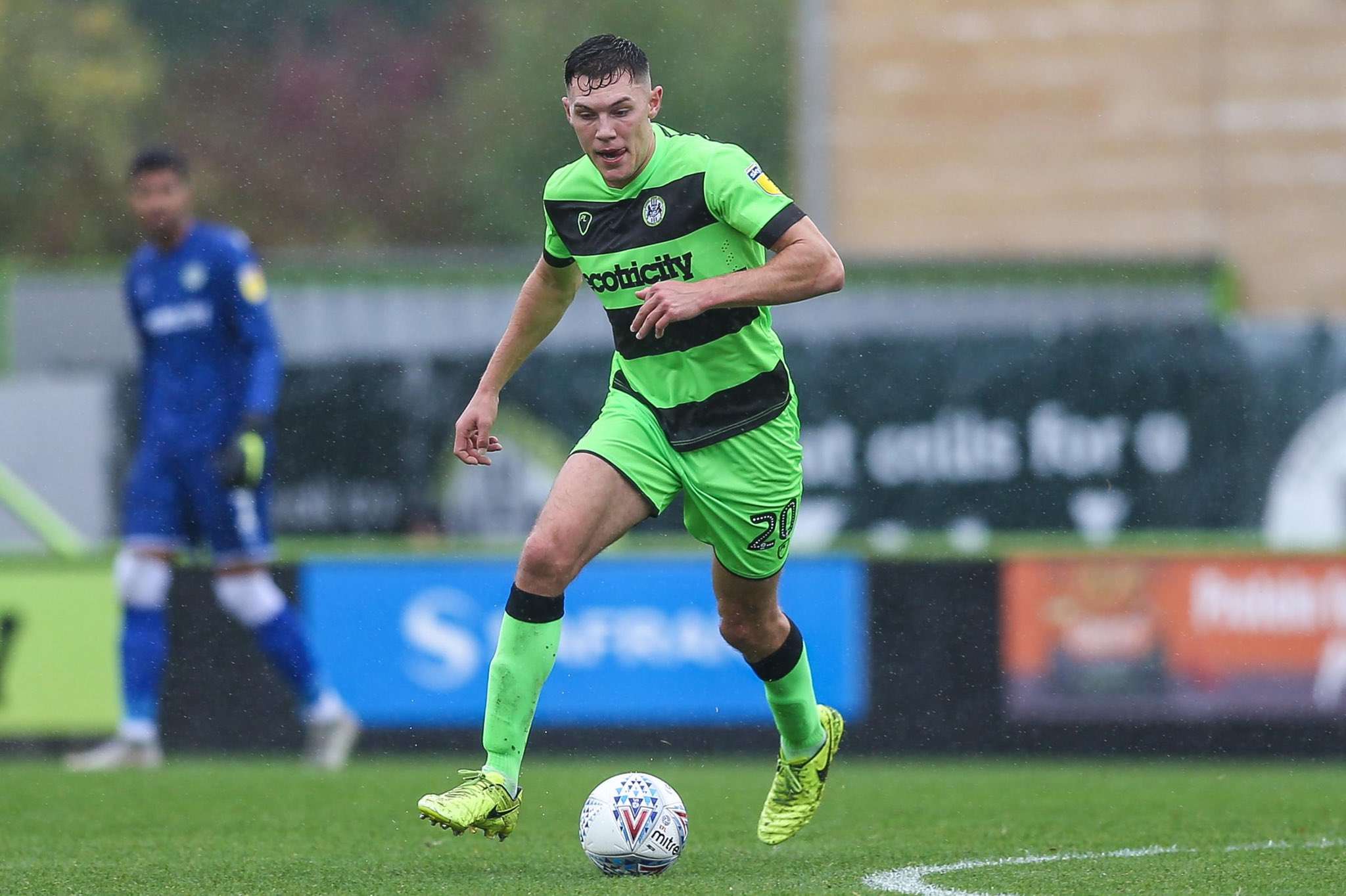 Paul Digby spent a season with Rovers in 2018/19.  He moved to Stevenage then to Cambridge, where he has been a regular for 3 seasons.  He wears number 4 in midfield for the U's.
Cambridge's Abbey Stadium has a capacity of just over 8,000.
Cambridge's mascot is Marvin the Moose – it's a bit of a mystery why!
Famous Cambridge connections
Dion Dublin – club director and former U's player.
Ron Atkinson – probably the U's most famous former manager.