Wycombe Wanderers will be at The Bolt New Lawn for only the second time ever.  The 2 sides have had 2 previous league meetings in late 2017 and early 2018 (Wycombe winning on both occasions).  A League Cup tie at Adams Park in August 2018 also resulted in a Wycombe win (4-3 on penalties).
Wycombe play at Adams Park, near High Wycombe, Buckinghamshire.  It's about 75 miles from Nailsworth heading towards London.
They are known as The Chairboys (or, occasionally The Blues).  Gareth Ainsworth has been their manager since 2012.  He is the second longest serving manager in the EFL (beaten only by Simon Weaver at Harrogate who has been in charge for 13 years).  His appearance and rock star aspirations have earned Ainsworth the nickname 'Wild Thing'.
Wycombe are solidly mid-table in 12th place with 6 wins, 7 losses & 4 draws so far.
They have overturned a couple of the top sides (Barnsley & Peterborough), possibly showing they are a match for anyone on their day.  Their losses had all come against teams in the top half of the division (Derby, Plymouth, Sheffield Wed, Bolton, Shrewsbury & Exeter).  However their last league 3 games (all at home) have been a 3-2 defeat against Cambridge Utd and draws against Morecambe and Port Vale.  Last weekend they went out in the FA Cup 1st Round with a surprise 2-0 defeat at home to Walsall.
They are perhaps marginally better at home than away so far but there's not much in it.  They have 3 wins and a draw from 8 away outings.
Manager Gareth Ainsworth is a very attack-minded manager, liking his teams to play aggressively and with a high pressing style.  He has been adept at building teams on tight budgets, often recruiting older players, overlooked or seen as "has-beens".
Wild Thing, Gareth Ainsworth!
Still only 21, Anis Mehmeti (number 11) is an attacking midfielder who is in his 3rd season with Wycombe, and it looks like being his best season yet.  Rejected by Spurs, Fulham & Norwich, Mehmeti has 7 goals in his appearances this season and is Wycombe's top scorer.
Maybe Wycombe's talisman is 33 year old striker Sam Vokes (who wears number 9).  Vokes is a Welsh international with over 60 caps as well as Premier League experience with Wolves and with Burnley, and many appearances for a host of Championship clubs.  He joined Wycombe last season and scored 16 goals in the league.  He is up and running with 3 goals this season and will doubtless pose a threat.
Vokes was named in SkySports League 1 team of the year last season.  He was joined by 2 other Wycombe players – the back pairing of Ryan Tafazolli (number 6) and Joe Jacobson (number 3).
Anis Mehmeti has led the Wycombe scorers this season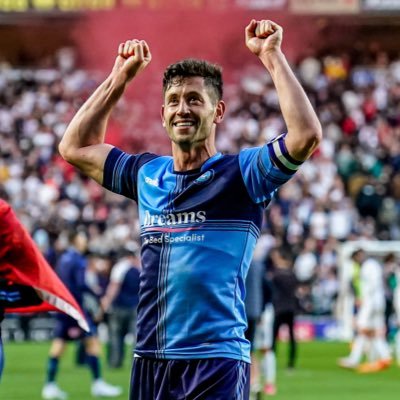 Fellow defender Joe Jacobson
Somebody else to watch out for, but not on the pitch, will be former Wycombe legend, Adebayo Akinfenwe.  Adebayo was at Wycombe for 6 seasons before retiring at the end of last season.  He has recently been rumoured to be joining the line-up in this year's 'I'm a Celebrity Get Me Out of Here!'.  However, we've been unable to confirm these rumours and he may have been ousted by Matt Hancock!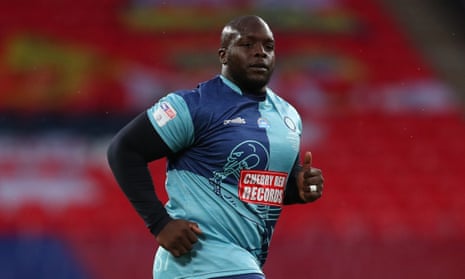 Will Adebayo be a celebrity in Australia rather than Nailsworth?
Wycombe are relative newcomers to the EFL.  They won promotion from the Conference in 1993, then immediately won a second promotion to League 1.  3 relegations and 3 promotions saw them see-saw between League's 1 & 2 until, in 2021, they were promoted to the Championship for the first time.  The stay in the Championship was a short one during a covid-affected season.  Wycombe were relegated in their first season – one point behind Derby, who then went into administration.  Wycombe considered legal action to recoup potential losses of up to £20 million.
Behind the scenes, the club was taken over by The Wycombe Wanderers Trust (supporter owned) in 2012, and Gareth Ainsworth took over as player-manager soon afterwards.  The club was recently taken over by Rob Couhig, whose company bought a 75% stake.  The club is still partly fan-owned – the Wycombe Wanderers Trust own the other 25% of the club.
The club has a great community feel and Adams Park is known as one of the best family-friendly grounds to visit.
The nickname 'Chairboys' comes from the tradition of chair-making in High Wycombe.
If you wondered about the 'swan' on their crest, Buckinghamshire, in Anglo-Saxon times was known for breeding swan for the King – the county flag and the arms of many Bucks towns (including High Wycombe) feature a swan.  A swan has been on Wycombe's crest for over 130 years.
Wycombe's mascot, 'Bodger the Chairboys' has won some acclaim as being one of the top ten bizarre and hilarious mascots in world football.  Bodger is, in some people's accounts, named after Tony 'Bodger' Horseman, the club's all-time record scorer (between 1961 & 1978).  But a bodger is also a turner who fashions chairs out of beechwood – maybe a double meaning going on here?