Milton Keynes is an 84 mile trip from Nailsworth that takes just over a couple of hours by road.
By Supporters Club Coach.  For full details of Away Travel which has changed from last season, this includes pick up times: – look at FGR Away Travel – Forest Green Rovers Supporters Club (fgrsc.com)  For further information, including pickup point locations see Away travel arrangements 22/23 – Forest Green Rovers Supporters Club (fgrsc.com)  Book your coach ticket with your match ticket from FGR (25% discount for FGR Supporters Club members) but note that you need to call FGR Reception to get the coach discount (phone 0333 123 1889 Monday to Friday, between 9am and 3pm).  Please try to book early.
By Train – Quite apart from any possible RMT industrial action, this isn't a trip for the train – there are almost no Boxing Day services anywhere!
By Car If you are driving, MK1 1ST is the stadium postcode for Sat Navs.   There is parking for 2000 cars at the stadium (at a slightly pricey £7) or for free at the  Denbigh West Industrial Estate (postcode MK1 1AX) – beware of parking in Asda here – some have been fined for this apparently!  It's about 0.7 miles from the stadium.  Generally, this isn't a stadium where parking is too tricky.
Stadium MK is big and pretty new (MK Dons moved in in 2007).  The capacity is over 30,000 (with potential to take this up to 45,000, hence the high roof).  It can feel a little empty because of its size – the Dons average gate this season is about 8,600 fluctuating between 13,000 (when Derby County visited) and 6,000 (when Accrington Stanley were in town).
However, the stadium is very well appointed and the seats are padded!!  There is loads of legroom and you can continue to watch the game from the concourse as you queue for food or drink.  Pubs in the local area are few but there are quite a number of food outlets close by.  The stadium is about 4 miles from Milton Keynes.
Ticket prices are Adults £22 Over 65's £17 Under 18's £7.
Away fans are in the North Stand behind one of the goals and there is plenty of space.  Views of the pitch are very good.
The stadium was built as a multi-purpose centre with a top-flight football team as its foundation.  Top flight football has eluded Milton Keynes up until now.  The club figured in the Championship for one season in 2015 and have had 2 short spells in League 2, but have otherwise been a League 1 club for all of their 19-year existence.
It hasn't been a great season for MK Dons so far.  The Don's home record has been especially poor – 1 win 2 draws & 8 defeats from 11 home games.  They are better away from home (13 points from 10 games on the road).  This gives them comfortably the worst home record in the league.  However, this could be misleading – almost all their home games so far have been against top-half sides, which maybe helps explain this.
The Dons are in 22nd place in the league, 1 place and 2 points below Rovers and with a game in hand.  Their recent form is 8 points from their last 9 games.  This is a big change from last season when the Dons made the play-offs, narrowly missing out on automatic promotion to the Championship.
But there may be a revival at Stadium MK.  The club sacked their manager, Liam Manning, on the 11th of December after a 2-1 home loss to Fleetwood.  Last season Manning guided the club to 3rd place in the league and a play-off spot, but this season things had not gone so well.  Some say the recruitment policy  in the summer was odd, with too many punts on unproven players (14 new recruits came in).  The club also lost players who had been key to their success last season, for example Scott Twine who moved to Burnley.  Captain Dean Lewington is in interim charge as MK search for a new boss.  In his first game in charge, Lewington masterminded an impressive 2-0 win away at Portsmouth.  Rovers will be MK's second league game after Manning's dismissal.
Former Sunderland striker, Will Grigg joined MK on a free transfer at the start of the season and has repaid them with 5 goals so far (their top scorer).  Grigg had been a great marksman for Wigan and this tempted Sunderland to pay over £3m for him in 2019.  But his career at Sunderland stalled and he signed for MK (having previously been at the club for a loan spell in 2021).  Grigg was an unused substitute in MK's last game away to Portsmouth.
Bradley Johnson in the MK midfield was with Norwich for 5 seasons between 2011 and 2016 (4 of these in the Premier League).  After moves to Derby then Blackburn, he joined MK this summer.  He is their joint top scorer with 5 goals this season.
Rovers fans will remember Sudanese forward Mo Eisa (number 10).  Eisa played for Cheltenham in 2017/18 before moves to Bristol City then Peterborough.  This is his 2nd season at MK, though he has been an intermittent starter for the Dons this campaign.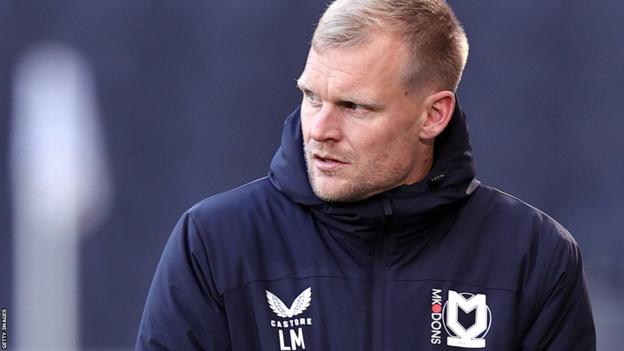 Liam Manning, MK's manager, lost his job on 11th Dec.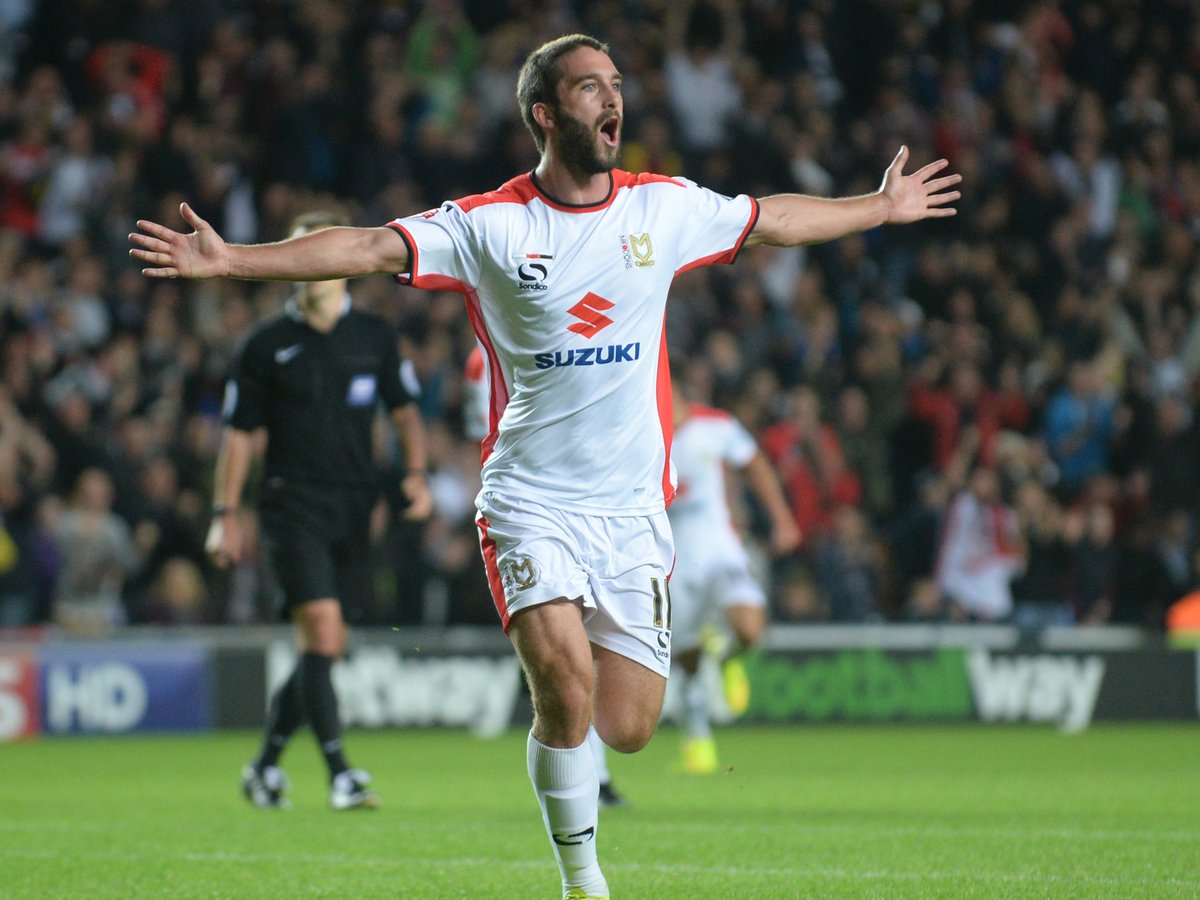 Will Grigg, number 9, MK's main frontman.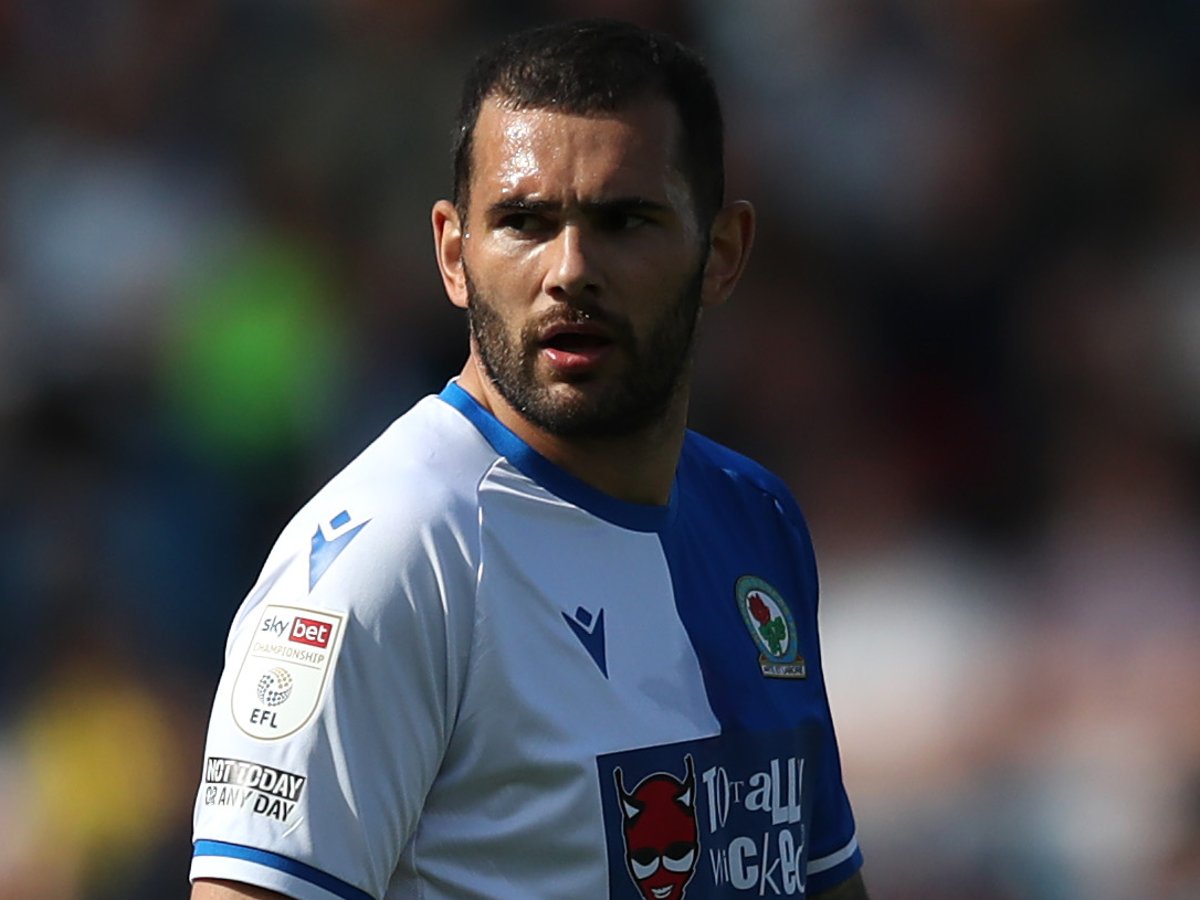 Midfielder Bradley Johnson, number 14, brings a lot of experience to MK.
MK Dons were formed in 2004 in controversial circumstances.  Wimbledon FC relocated to Milton Keynes, having had to play their league games at Selhurst Park for a while and following going into administration in 2003.  Wimbledon fans mostly refused to follow the club to Milton Keynes and the acrimony has increased over the years with many urging the EFL to do something to prevent the 'franchising' of clubs out of their local area.
MK and the resurrected AFC Wimbledon were both in League 1 last season before Wimbledon were relegated to League 2.  The London club long refused to recognise the 'Dons' part of MK Dons (only ever publishing their name as 'Milton Keynes') until the EFL stepped in to insist they used the full name.  Bitter memories run deep!
MK Don's greatest Academy product, Dele Alli, was sold to Spurs for an initial £5m in 2015.  Alli is currently on loan to Besiktas from parent club Everton.
The only other professional football club in Buckinghamshire is Wycombe Wanderers.
Milton Keynes was formed as a 'New Town' in the late 1960's and has now grown to have a population of 250,000 people.  The town, which became a city in 2022, is built on a grid system of streets surrounded by ring roads and (many!) roundabouts.
The stadium is very close to the village of Bletchley and less than a mile from the WW2 codebreaking location of Bletchley Park, now home to a wartime museum.
Bletchley Park, where the enigma code was broken in World War II.
Donny & Mooie, the MK Don's mascots.  Stadium MK's South Stand is also known as the Cowshed.  Milton Keynes is also known for an artwork of 6 concrete cows installed on one of its roundabouts in 1978.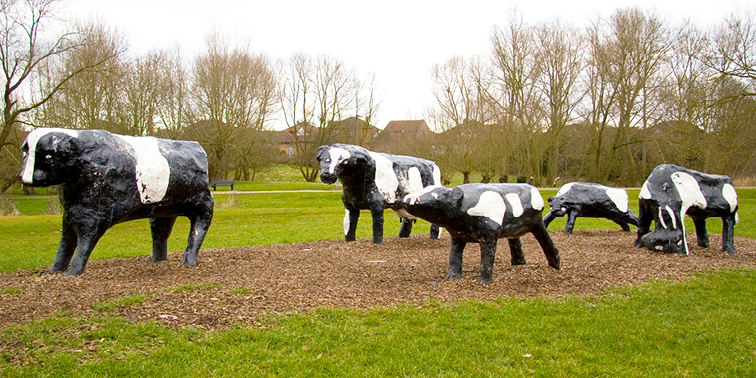 Concrete cows in Milton Keynes!