Last season Bradford City sank to their lowest league position for about 55 years.  After a good start, where it looked as though the play-offs were a possibility, they ended up in 15th place. Despite this relatively lowly position, the Bantams managed to convince their manager, Derek Adams, to leave newly-promoted Morecambe to drop back into League Two management.  But a run of 9 wins in 37 games cost Adams his job in February.  His replacement, Mark Hughes, was announced just recently.
This season, Bradford's performance has been looking below average.  Their recent form is well below average (5 defeats in the last 5 games).  Goals scored (38) and goals conceded (45) are both below average for the division.  They are below the middle of the division in 15th place (with 40 points from 35 games).
But Bradford are way above average when it comes to their fanbase.  With attendances at Valley Parade usually topping 15,000, Bradford are the best supported club in League 2 by some distance.  Expect a few from Yorkshire to be visiting Gloucestershire.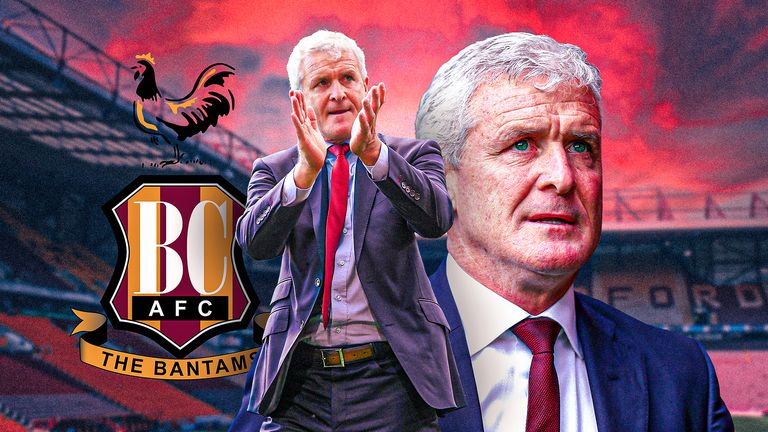 Mark Hughes was Bradford's recent marquee signing as manager.
Mark Hughes was appointed manager of Bradford on 24th Feb on a deal until the summer of 2024.  This is seen as something of a coup for the Yorkshire club and, other than managing the Welsh national side, this is the first time Hughes has managed a club outside the top division.  He has previously managed Manchester City, Blackburn, Stoke & Southampton.  His last role in football was as Southampton manager, where he was dismissed in December 2018.
Hughes' first 2 games in charge have been 2 tough games and 2 home defeats (0-2 against Mansfield and 1-2 against Swindon).
Bradford have been through 8 permanent managers in the last 4 years, so they will be hoping that Hughes will revive their fortunes.  Hughes has been recently making it clear that he wanted to get back into football management and it's understood that Hughes approached Bradford about the position.
The first game between the sides at Valley Parade in October ended 1-1.  Rovers looked vulnerable at set pieces and conceded to an Andy Cook header direct from a corner in the first half.  Rovers levelled in the 2nd half thanks to a fabulous Jake Young solo effort.  Bradford supporters felt there should have been a foul in the build-up to the goal and felt (maybe rightly!) that they deserved more from the game.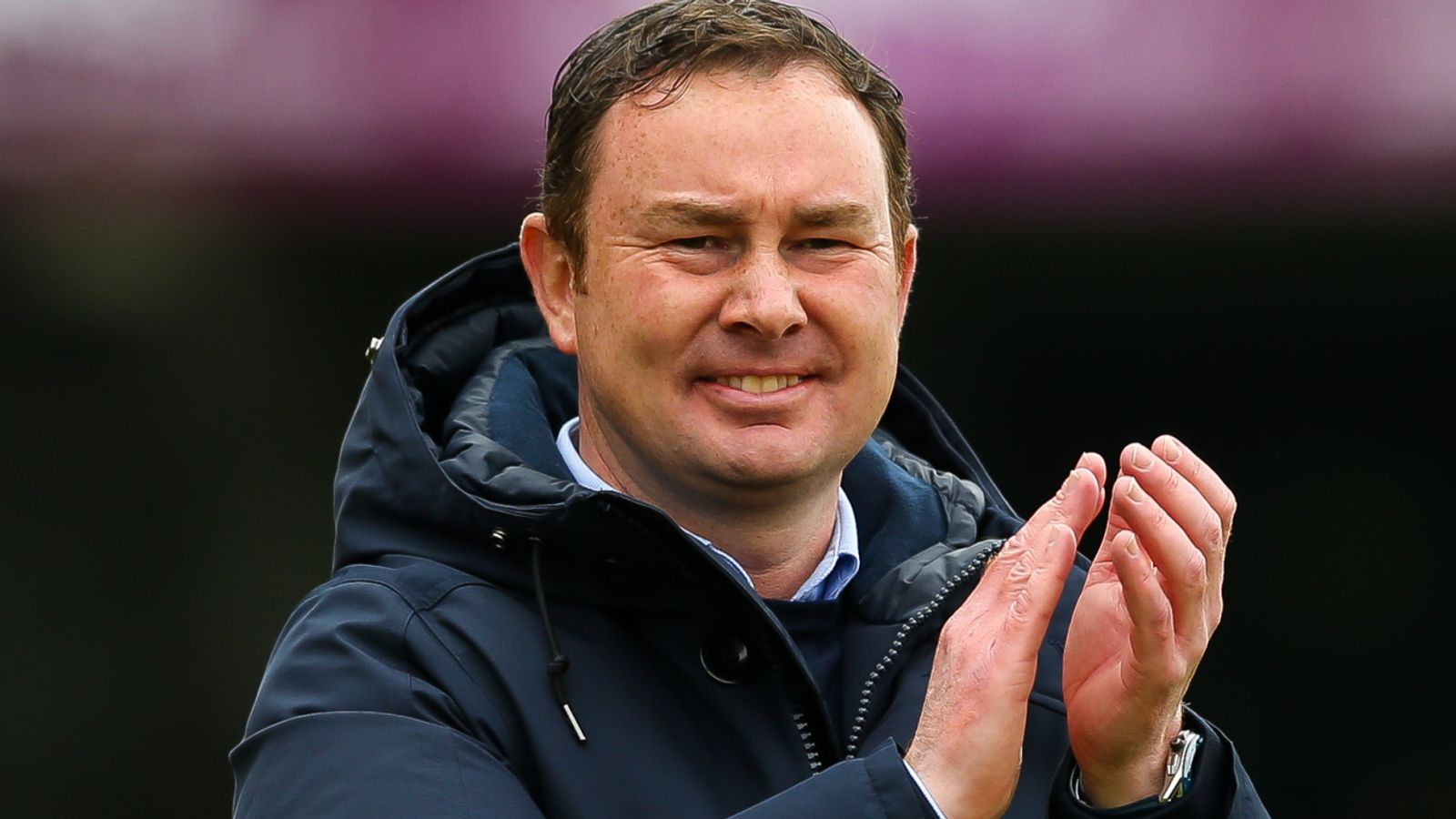 Recently sacked manager Derek Adams secured Morecambe's promotion to League 1 last season then, 3 days later, moved to Bradford.
Bradford's man in form is striker Andy Cook (number 9).  Cook has 10 league goals to his name so far.  Now 31, the striker was with Tranmere between 2016 and 2018 where he top-scored in both his seasons in the National League.  After scoring the goal that secured Tranmere's promotion to the EFL, he left to join Walsall.  After Walsall, Cook moved to Mansfield before joining Bradford this summer after a successful loan spell.
Lee Angol was the other striker making a mark in Bradford's lineup.  Injury early in the season side-lined him for a while and recurred in January meaning he may miss the rest of the season.  Angol had scored 5 goals for Bradford in 12 starts this season, in-between getting injured.  In his place, Charles Vernam (number 15) has netted 4 times but isn't necessarily a regular starter.
It's hard to know how Bradford will line up against Rovers.  4-2-3-1 has been the 'go-to' formation for Bradford this season.  Bradford's defence has looked more solid of late with Yann Songo'o (number 6) and the reliable Paudie O'Connor (number 4) beginning to work well together at the back.  Club captain Niall Canavan (number 5) has had a spell on the treatment table recently but was back recently.  It was thought that his return would mean a change to a five at the back formation and, indeed, Bradford went to a 5-4-1 formation in their next game.  All this may be torn up by their new manager though.
Andy Cook is Bradford's leading scorer.
After a 77-year absence, Bradford were promoted to the Premier League in 1999. However, entering administration twice and relegations in 2000, 2004 & 2007 put the club back into the 4th tier. A promotion to League 1 in 2013 was followed by another relegation back to League 2 in 2019.
The Robins, the Paraders, the Wasps and the Citizens are all nicknames the club have had over the years. These days they are known as the Bantams.  Bradford play at Valley Parade which has a capacity of over 25,000 (the highest capacity in League 2). Bradford are also the best supported side in League 2 (by some distance!).
Bradford are the only professional English team to wear claret and amber, colours they have worn since they were formed in 1903 (they are the same colours as Motherwell in Scotland). Sales of Bradford scarfs have been brisk since they are the same as Harry Potter's house colours at Hogwarts.
Are these Bradford fans??
One of the key moments in Bradford's history came in 1985.  On 11 May 1985, Valley Parade was the scene of a fatal fire, during which 56 supporters were killed and at least 265 were injured.  The game was the final match of the season.  Before the game City were presented with the Division 3 championship trophy. The fire destroyed the main stand in just nine minutes.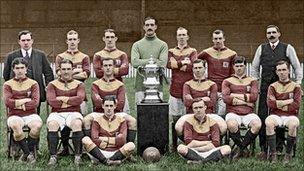 Bradford City won the FA Cup in 1911 (their only success), beating Newcastle 1-0 in a replay at Old Trafford.  Some 100,000 people turned out to welcome the team back to Bradford.  Eight of the team that day were Scottish.
Valley Parade – League 2's biggest stadium.